Why would you hold a phone forever or be stuck with tangled wires, when you can have a suitable Bluetooth earbud! It has literally taken me months to pick out a decent Bluetooth earbud that does not die out fast or pains my ears within minutes.
My dream came true when I found out about Nenrent S570 Bluetooth earbuds. It is so small in size that one can't even tell from far that you have it on. And they just lifted my mood a bit with their vast range of colors!
In this article, I am sharing with you the Nenrent S570 review, so that you can decide for yourself.
Nenrent S570 Review:
There are multiple factors why this particular Bluetooth earbud has been the winner for me. But I am going to hold my excitement and make a list of its main features!
Small size, wide functions
When they say it is the smallest earbud in the world, they are not saying it wrong. It is indeed the size of a button but does wonder. Streaming music is really fun with this, but the call clarity is on another level.
I put it on while doing my household chores, and even when I have to Netflix without disturbing my roommate's sleep. And it features only one control button, which is easy to handle.
Comfort Level: Superb
Never have I ever used any earbud that felt so comfortable in the ears and for so long. This earbud has an ergonomics design, meaning it can fit into anyone's ears. Personally, I have had issues with the fit of earbuds earlier, but Nenrent S570 models offer a whole range of different ear tips options. Added perk? They are super lightweight.
Long duration
It has a long battery life, which most of the available earbuds don't. While using a 40-50% volume level, it can go on for 5-6 hours undoubtedly.

This is why this earbud has become my daily travel companion.
I usually put it on the charge with an hour or two in hand. Their standby time is 130 hours, can you even imagine that?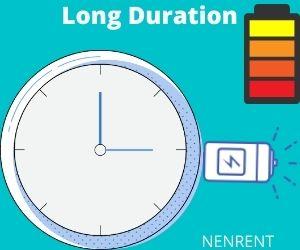 I heard people having issues with the battery life of this product sometimes, but I could never complain.
Take It Anywhere With You
Firstly, this earbud comes with a carry-on pouch that satisfied my inner organizer-self entirely. Also, it is compatible with most Bluetooth enabled devices such as iPhones, laptops, iPods, or other audio devices.
The Bluetooth technology has multiple connecting features, and it can connect two devices within a 10 meters distance. It has never felt unstable even when I go on running wearing it. In short, I have no other travel buddy like Nenrent S570 Bluetooth earbuds.
Amazing Service and Warranty
I have had helpful and positive responses from their customer service, which offers 24-hours email contact assistance. Also, you will get one year warranty after the purchase, which is excellent.
Pros
Small in size but massive in functions.
It comes in attractive colors.
Compatible with multiple devices.
Really long battery life.
Clarity of audio tracks and smooth calls.
Cons
It can slip out of the ears sometimes because of the plastic exterior.
It can have a syncing problem sometimes.
Final Verdict:
I hope my Nenrent s570 review has given you better clarity on the product features. Honestly, there is not much to complain about this little earbud. They are worth the price. It is a wise decision to purchase a set of earbuds that is not only fashionable but also is excellent in functions. For me, Nenrent S570 Bluetooth earbud is one of the best Bluetooth earbuds currently available in the market.
Retailers
Last update on 2023-12-10 at 08:01 / Affiliate links / Images from Amazon Product Advertising API