Mpow is one of those rare headphone brands that have successfully managed to bridge the gap between contemporary designs and excellent sound output.
Mpow H1 vs Mpow 059: Which One Offers The Best Bang for the Buck
Best of the Best
Mpow H1
Mpow H1 is the most comfortable gear in the H series Bluetooth headphones. The soft ear cuff cushion is breathable and keeps your ears sweat-free for hours. It has a shorter charging time of 2-3 hours compared to the 4 hours charging time of Mpow 059. It's best for musicians, sound designers and people with sensitive ears which can detect the subtle nuances in music.
Ideal for Bass Heads
Mpow 059
If you admire thumpy, punchy, kicky bass then Mpow 059 is more suitable for you. Although the charging time is longer than that of H1, the battery performance of 059 is better. I also loved the powerful and effective ANC which helps to isolate background noise in the loud environments. It looks sturdy and classy too and the ear cuffs effectively prevent sound leakage.
That's why we will be dedicating this segment to the best Mpow Bluetooth headphones review.
While we are on the subject, we would also walk you through the process of choosing the right model suited to your specific preferences.
But before we dive head-on into the detailed, in-depth reviews, let us compare the features, design elements and usability of every individual Mpow product that we have covered in this article.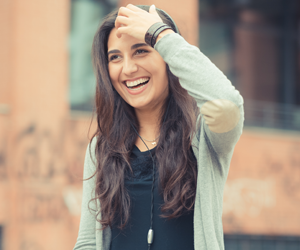 This comparison will help you quickly jump down to the exact model you've been searching for.
Versus (Comparison )Of Mpow H Series Headphones
Mpow H1 vs Mpow H2 – Why H1 Is Our Favorite of the Lot?
Mpow H1 aced our list of the best Mpow Bluetooth review and later on, we will elaborate why so exactly.
This bad boy flaunting an uber cool black and red color scheme is one hell of a looker. But its actual strength lies in its amazing noise-cancelation ability and an exceptionally clear audio output coupled with an outstanding bass.
At #2, we have Mpow H2 which is neck-in-neck in the sound quality war with H1. However, if we compare the design of these two, H1 is the winner, hands down.
The same applies to the bass as well. But the clarity of sound along with 4 Equalizer settings makes for an immersive listening experience for the lovers of simply any music genre we can think of.
Mpow H2 vs H3 – What Makes the Mpow H3 a Better Choice?
If we compare the sound output of H2 and H3, our favor is slightly inclined towards H3.
The pitch-perfect balance among deep bass, full midrange and highs make for a crisp and clear sound quality. The sound is so well-defined and pronounced that almost every single instrument in the mix resonates in your ears.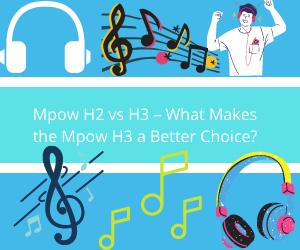 If we compare the sound output of H2 and H3, our favor is slightly inclined towards H3.
The pitch-perfect balance among deep bass, full midrange and highs make for a crisp and clear sound quality. The sound is so well-defined and pronounced that almost every single instrument in the mix resonates in your ears.
Add to that, there are almost 50 hours of runtime (at highest settings) which is unparalleled even by many of its costlier counterparts.
Mpow H1 vs Mpow 059 vs Mpow H2 – Which One Stands out Depends on Your Music Preference?
What makes Mpow 059 a solid competitor of H1 and H2 is its appealing price tag and an extremely balanced audio performance. Both the low frequency and high-frequency response are par excellence.
Those who prefer listening to soft, slow tunes with love the smooth mids and warm bass of the headphone. But for distortion-free highs, tight bass and elegance of design, you might want to shell out more and invest in H1 or H2.
Friendly Remainder: People are finding "Mpow h1 vs 059" more than "Mpow h2 vs Mpow 059"
Mpow H1 vs Mpow H2 vs Mpow 059 vs Mpow H4 – What Makes H4 Stand above the Rest?
In the comparison among H1 vs H2 vs 059 vs H4, we declare H4 is a clear winner for those who prioritize personalizing the music listening experience more than the other aspects.
The Ear EQ settings with the custom app are a class of its own. It uses UltimateHear hearing algorithm to figure out your preferred EQ curve and saves it as a preset.
For a couple bucks extra than our top picks it also allows for 30+ hours of playback. Compare it to the 20 hours runtime of H1 or 13 hours offered by H2 and 059. Do we need to state the obvious?
While Mpow H1, H2, 059 and H4 are ruling the charts here, we have a few other honorable mentions too. While none of them are on par with our fantastic four in terms of audio output, design, durability or comfort, they do boast of an array of unique and practical features. All these without costing an arm and leg.
Mpow H1 vs H5 – Choice between Incredible Versatility and Effective Noise Cancelation
Right at spot #5, we have Mpow H5, an upgraded version of H4. But like its predecessor, it does not provide state-of-the-art music personalization features or an impeccable battery life of 30 hours (H5's battery backup lasts for 18+ hours).
But if you are particularly looking for a headphone that'll effectively filter out traffic noise, generator noise, and other disturbing external noises, Mpow H5 active noise canceling Bluetooth headphones is the answer for you.
Mpow H5 vs Mpow Thor Bluetooth Headphones – Which One Cancels Noise Better at a Lower Cost?
If you are restrained by budget and want a no-frills headphone with a great Bluetooth connectivity and decent sound output, you can definitely give Mpow Thor Bluetooth Headphones a look.
Comparing its 8 hours battery runtime with that of H4 or bass-heavy response with that of H1 and impact of ANC with that of H5 won't be fair, given the economical pricing.
Despite being on the lower side of the cost spectrum, it does offer a good passive noise-cancelation. So there's that.
Mpow H1 vs H7 – Great Performance vs Great Affordability
H7 strikes a great balance between impressive ergonomic autonomy and great audio quality.
The earcups wrap around your ears and even extended hours of use doesn't cause any warmth or a lot of sweat. The high and mids are above average while the lows pack quite a punch.
But if we compare it to the fantastic overall performance of H1 or the affordability of Thor, it doesn't fare that well.
Mpow H7 vs H7 Plus – An Upgrade Worth Every Penny
If you are okay with upping your budget a little more, you can get an updated version of H7 called H7 Plus which overcomes all the shortcomings of H7.
It has a great bass booster. The protein earmuffs are super comfy and it produces a full sound with deep bass along with 13 hours of battery backup. Quite a deal in the medium price range!
Mpow H5 vs H7 Plus vs H8 – H5 Wins This Round!
Unlike Thor and H7, H8 offers the much sought after ANC or Active Noise Cancelation feature. The generously cushioned, 90-degree swiveling earcups prevent sound leakage and are easy on your ears too.
The lows are deep and full, the mids are okay but aren't velvety smooth per se.
Among the H5 vs Thor vs H7 vs H8, in terms of sound quality, our vote goes to H5. But as far as overall performance and superior comfort go, H8 can give the other three quite a run for their money.
Mpow Thor vs H9 – Why Our Vote Goes to H9?
Standing at the lower spectrum of the price range, we have to admit that the mids of Mpow H9 are startlingly clear. Also compared to Thor's 8-hour battery backup (also a budget model), it provides 12 odd hours of playtime.
Also, it has the most heavy-duty construction of all the products we reviewed. That's because the body is made of metal instead of plastic.
So if you think your headphones will have to withstand quite a lot of beating in future, H9 would be a really smart investment.
Mpow H5 vs H8 vs H12 – Which One Is the Best Noise Canceler?
Last but definitely not the least, we have Mpow 12 which doesn't have any bells and whistles but does its core job just fine.
The ANC is almost at par with that of H5 but not better than H8 as it H12 can't filter out human voices. The low-frequency response of the headphone stands out among all its features.
Which Mpow Headphone is best for what?
Now that head to head comparison is done, let us make your job even easier. We'll quickly take a glance at which headphone model is best suited for what specific type of uses.
Mpow H1: Overall best performance on the basis of sound quality, Bluetooth connectivity, ease of operation and practicality of design.
Mpow H2: Great sound clarity in the high mid range. 4 Equalizer settings tailor the music according to your taste. Comfortable enough for casual listening.
Mpow H3: Longest battery life (25-50 hours, depending on your volume settings). Will be a great choice if you are into pop and EDM music.
Mpow 059: Affordable. Best for those who mostly listen to slow, soft music.
Mpow H4: Hi-tech Equalizer settings aid superior and effortless personalization of music. 30 hours of battery backup.
Mpow H5: Best for those who are looking for a great noise-canceling headphone. The audio has a soothing fullness paired with super clear mids.
Mpow Thor: Best budget Mpow Bluetooth Over-Ear headphone.
Mpow H7: Moderately priced. Comfortable to wear for hours. Lows are deep and warm bass.
Mpow H7 Plus: Great bass boost, protein earmuffs and generously cushioned headband for ultra comfort.
Mpow H8: Affordable. Comfortable. Decent sound. Great ANC. Not the best optional for heavy bass lovers.
Mpow H9: Sturdy construction. Impeccably clear mids. Deep bass.
Mpow H12: Low-budget, sound quality is quite good for the price. Actively eliminates any kind of annoying external sound except human voices.
Overview
Headphones have been the most extensively used gadget since the dawn of Headphonekind, isn't it?
There has been a massive evolution of their manufacturing technology since they first hit the market.
The audio quality has improved immensely and dozens of designs have been introduced to the market. While that's a great news for audiophiles like us, choosing the right pair of headphones has become increasingly challenging as well.
While some prioritize superior noise-cancelation, some prefer a bombastic bass more than anything.
There are brands who target the niche of water-resistant gym-ready headphones and while some others solely focus on the overall audio output. gym or sports practice There are brands who target the niche of water-resistant gym-ready headphones and while some others solely focus on the overall audio output.
Reviews of the Best Mpow Headphones
1. Mpow H1 Review (Bluetooth Headphones) – Elegant Design and Great Sound Quality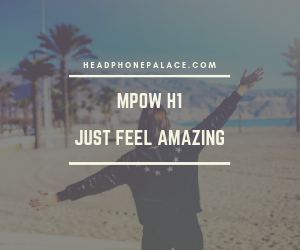 Mpow H1 has the right amount of "Oomph! Factor", thanks to its elegant design, decent sound output, fast and hassle-free Bluetooth connectivity, and great comfort. The very first thing that caught our fancy at the first glance was the design. From the headband to earcups, the placement of buttons, the black and red theme- the design of the H1 is a real eye-candy.
The ear cushions are lightweight but thick which leads to quite a great environmental noise cancelation. However, it doesn't block the noises of a running motor or human noise, if that's what you are expecting.
In the H1 vs 059 comparisons in terms of weight, the H1 is much lighter than 059. Therefore, you can wear it all day without straining your neck. However, although the ear cups don't swivel, they can slip easily during hard workout. So if you are looking for a gym-ready headphone, you better look for other options.
Moving on to the sound quality, we have to admit that Mpow H1 truly exceeded our expectations. We already knew that it doesn't provide a bass-heavy response and we don't complain much, given the price-point. The mids are where this headphone truly shines. The vocals and instruments are very clear and well-defined in the mids. But we can't say the same for the highs and lows.
If you love listening to classical music, folk, Jazz, Soft Rock and Pop, this headphone will give you an immersive listening experience for sure. The 40 mm drivers can cover a wide range of frequencies, facilitating a very balanced tone.
A quick read of the Mpow H1 user manual tells us that the device employs Bluetooth 4.1. We didn't face any issue with the connectivity and the coverage range of 33 ft. is what most Bluetooth headphones offer these days. It can be used in both wired and wireless mode. One bugbear to deal with here is that the built-in microphone doesn't work in wired mode. But, in no way, does qualify as a dealbreaker.
Another terrific feature that makes this deal worth grabbing is the massive battery life of 15-20 hours, even while the Bluetooth is enabled and you are live streaming music. The package of Mpow H1 Bluetooth headphones also includes a USB charging cable, a 3.5mm audio jack, a solidly built carrying case along with the very useful Mpow H1 manual.
Pros
Great comfort.
Stylish design.
Mids are crisp and clear.
Long battery life.
Excellent BT connectivity.
Cons
The bass isn't high.
The microphone is disabled in the wired mode.
No products found.
2. Mpow H2 [Upgrade] Bluetooth Headphones – Best Gym-ready Headphones
The matte-black plastic finish of the chassis and well-cushioned protein earcups don't make H2 much of a looker. Being an on-ear headset, the earcups press tightly against your ears. Unless you are a touchy-feely kind of person, this shouldn't pose a problem.
Actually, for the same reason, the earcups won't fall off while you are jogging or shedding your extra pounds at the gym. The overall build quality feels pretty solid in hand and we expect these headphones to last for years to come unless you drop it from a good height.
Moving on to the sound output, the bass boost won't be good enough for you if you prefer high bass. However, at the mids and lows, the tone is nicely balanced and produces a great clarity. The 4 EQ modes let you match the Equalizer settings to your music preference.
However, even the EQ settings fail to provide as much depth to the sound as H1 offers. The Mpow H2 is powered by Bluetooth 4.0 which is standard and lets you connect to two devices at a time. It's not a very practical feature to add but still, nice to have it than not. There are five buttons for controlling the volume, equalizers, play, pause and receiving/disconnecting calls.
Even after a thorough read of the thick H2 manual, it will take you some time to get the hang of which button does what. But the muscle memory is build up, maneuvering the device will be a cakewalk for you as. All the 5 buttons, as well as a 3.5 mm audio jack, are placed on the Left earcup. The MicroUSB charging port on the right earcup means you won't have to struggle to find a suitable charging cable for it. So that's a plus too.
With its 13 hours of playback time, you can lose yourself into the psychedelic world of fic or simply Netflix and chill for hours end. So if you want a highly portable, gym-ready Bluetooth headphones emulating above average sound at a moderate price, we safely recommend this model.
Pros
4 EQ settings to match your ever-evolving music taste.
Solid build, the ear cups won't fall off while running or rigorous workout.
The ear cups are well-cushioned and easily foldable.
Incredible sound clarity at mids and lows.
13 hours of battery backup.
Cons
Not a bass-heavy headphone.
Operating the device has a steep learning curve.
No products found.
3. Mpow H3 Active Noise Cancelling Headphones – Best Budget Passive Noise Cancelling Headphones
A closer look at Mpow H3 instantly reminds you of Beats headphones. The circumaural headphones easily fold at the hinges which make it easy to carry. The underside of the headband and pavillion of the ear cups are generously cushioned. So you can wear these headphones for long hours, Netflix and chill without feeling the slightest discomfort. The headband has seven attachment notches which further add to the comfort level.
However, people with large ears might find the oval and narrow earcups a little discomforting after one or two hours of use. Moving on, the controls of this Bluetooth headphone are quite straightforward and streamlined. The right earcup features a central multifunction button along with navigation and volume buttons. You don't have to be a tech-savvy to get the hang of the controls in a jiffy.
The left ear cup has an audio cable port (cable included in the package). While being able to use the headphone in wired mode is a plus. Like us, you will also be able to sense the difference between audio quality in the wired and Bluetooth pairing mode. The latter is significantly better. You shouldn't have any issue with pairing your laptop, Android or iPhone with the headphone Bluetooth.
You might experience occasional dropouts, or even crackling, though that's a glitch common in most budget Bluetooth headphones. The built-in mic is okay, you can clearly hear the voice of your callers but at times, the voice gets a little fuzzy. One of the key features of this headphone has to be its powerful passive noise cancelation. Once you put them on, engine's gurgling noise or traffic noise won't disrupt your music listening experience.
Mpow H3 also features Active Noise Cancelation. Put them on when you are in a public transport, office or college. It will let you enjoy an immersive listening experience by filtering out low-frequency external noises. However, it can't block the hullabaloo of human conversation or the barking noise of your pet dog.
Coming to the sound quality, what impressed us the most is the high-frequency and high-mid presence. At moderate sound level, the lows are crisp and well-defined. What makes the tone more balanced is its powerful high-frequency response. At max volume settings, you will experience a slight distortion of sound.
We can't complain much about it as you get what you pay for. In the bass-heavy mixes, sounds of the percussion sound rather flat but the vocals it delivers are quite clean. Thanks to the high-mid and high-frequency presence, the vocals get a lot of low-mid presence.
Unless you are a crazy fan of intense bass-heavy music, the audio signature of H3 will be a treat for your earbuds. Last but not the least, the battery will last you for up to 13 hours even at continuous high volume settings. For someone who likes to keep his headphone on all day, that's a massive advantage.
Pros
Ultra-comfortable design, foldable earcups.
Excellent high-mid presence and high-frequency response.
25-50 hours of battery life.
Effective passive noise cancellation.
Easy-to-operate controls.
Cons
The bass boost isn't very powerful.
Occasional dropouts in the Bluetooth connection.
No products found.
4. Mpow 059 Bluetooth Headphones Over Ear – Best Affordable Headphone for Slow Music
The market is quite literally flooding with Bluetooth headphones in every price range these days. To find a model that blends decent sound quality with a durable design might take you ages. Mpow 059 is one of the most widely sold Mpow Bluetooth headphones because it packs the irresistible combination of a stylish design and a pleasing sound signature.
Although the headband doesn't allow for much adjustability and the diameter of the ear cups are rather on the smaller side, folks with small ears shouldn't have any comfort issue. As far as the breathability is concerned, the ear cups seal your ears tightly. So as you can understand, it does get in the way of airflow.
Besides that, the over-ear headphones aren't that steady and might fall off easily. Therefore, Mpow 059 is a big no-no during a hardcore workout in the gym or sports practice. The control scheme of the headphone is located on the right earcup. The controls are quite basic. You don't have to read the Mpow 059 user manual between the lines to memorize which button does what.
Apart from the intuitive design of the control scheme, the buttons have a good feedback as well which helps you to ascertain that you are pressing the right buttons. The built-in mic is nothing special. A common complaint with the mic is that the person on the other side of the phone or computer can't hear your voice clearly. However, the powerful low-bass response of the headphone more than makes up for this defect.
But on the downside, the high and mid-bass sound overemphasized, pushing it to the point of being muddy. For the same reason, the bass might sound a little boomy which may or may not be a good thing, depending on your personal choice. The mids and highs aren't that impressive either. But what make Mpow 059 worth your money and time are the lows which pack quite a punch.
Long story short, if you are a Leonard Cohen fan, go for this headphone. Metallica and System of a Down fans look elsewhere. With its approximately 12-hours of battery backup, you can lose yourself in the world of music or binge-watch your favorite web series without worrying about charging the headphones.
Pros
Sturdy design, generous cushioning on the earcups.
The audio output is primarily focused on the low-end.
Good low-bass response.
Approx. 12 hours of battery life.
Fuss-free control scheme.
Cons
The high and mids aren't up to the mark.
Not suited for people with large ears.
No products found.
MPOW 059 Bluetooth Headphones Over Ear (xmpow.com)
5. Mpow H4 30 Hrs Bluetooth Headphones – Best Headphone for Personalizing Your Music
If you like to personalize your music by tinkering with the Equalizer settings, we might just have found the right Bluetooth headphone for you. Mpow H4 headphone utilizes special EarEQ settings. The H4 user guide will walk you through the steps of how to connect it with your device by downloading the custom app.
Once you download the app, take a hearing test. It's surprisingly accurate UnlimiterHear hearing algorithm will figure out your EQ curve and save it. Now every time you switch on your headphone, press the EarEQ ON button and you are in for an immersive listening experienced tailored right according to your hearing preference.
You can even manually tweak the EQ curve when you feel like listening to Bohemian Rhapsody, a welcome change from The Real Slim Shady you have been looping all day long. Even on the design front, Mpow M4 leaves its mark.
The headband is easily adjustable and the ear cups are supplied with adequate protein pads to maximize your comfort. The swiveling ear cups are quite steady and provide sufficient breathability to your ears. Therefore, there's absolutely no reason why you can't keep the headphones on during weight lifting, running on the treadmill or bench press.
The controls are pretty simple. You will get the hang of it after using the headphone for an hour or two. Another major highlight of this model is the use of AptX low latency technology which allows you to enjoy your movies with any leap movements. With the help of this and a Bluetooth transmitter, you can connect Mpow H4 to your smart T.V as well.
But what truly makes this particular model stand above the rest is its 30 hours of battery time. It takes the device barely 2 hours to receive the full charge. Once it is done, you don't have to worry about charging it for quite some time. This makes it a great choice for people who travel a lot or live off the grid.
Pros
State-of-the-art EQ settings for those who love to personalize the EQ curve.
30 hours of battery backup.
Takes merely 2 hours to receive full charge.
Well-cushioned ear cups and adjustable headband.
Highly portable.
Cons
Doesn't feature Active Noise Cancellation feature.
No products found.
6. Mpow H5 Active Noise Canceling Headphones – Best for Active Noise Cancelation
In the Mpow H4 vs H5, what gives the latter a critical edge over H4 is its superior Active Noise Cancelation technology. We can only imagine how irritating it gets when you are lost in your favorite song or listening to a funny podcast and people around you start chattering about their existential crisis. Perhaps situations like this resulted in the coinage of the term FML!
On the outer shell of the left cup, you will find the ANC button. Once you press it, the ANC indicator will lit up and effectively block the ambient noise. The H5 review will be incomplete without a word or two in the praise of its plush design. It resembles the elegant and luxurious appearance of Bose and Beats headphones at a fraction of their cost. We bet the uber cool, wavy Mpow Bluetooth earpieces will instantly become an object of envy for your friends.
The only design fault we noticed was that the padding on the ear cups was shallower compared to the other Mpow headphones. A minor setback, not serious enough to be a dealbreaker. To make up for this, the headband has been designed with the utmost precision. It is made of durable steel, easily adjustable and is sufficiently padded on the underside for optimal comfort.
The device utilizes Bluetooth 4.1. You are least likely to have any trouble with connecting it to your BT enabled devices. The BT range of 33 feet is what most standard BT headphones provide these days. The controls are very basic, nothing significant about that.
Coming to the audio quality, Mpow H5 Active Noise Canceling Headphones completely exceeded our expectations. The bass was deep, loud and clear, even the lows packed quite a punch. The balance of sound between left and right ear cups was amazing, resulting in a Surround-sound feel. The sharp treble was nicely balanced out by the crisp and heavy bass. Like Mpow H4, it also takes only 2 hours to get fully charged. The battery runtime of 18 hours is more than enough if you intend to use it for extended hours.
Pros
Powerful Active Noise Cancellation.
18+ hours of battery runtime.
Deep, heavy bass.
Surround-sound effect.
Rich and well-rounded vocals.
Cons
The cushioning on the ear cups are thin.
No products found.
7. Mpow Thor Bluetooth Headphones – Best Budget Headphones
Pricing is the first thing most of us look into while buying anything, BT headphones are no exception. If your budget is limited yet you don't want to compromise with the sound quality, Mpow Thor is, to a great extent, your safest bet. Don't expect a budget headphone to look dope. You'll only be disappointed. Thor is available in three colors- the oh-s- generic black, matte black and to live up to Thor's legacy, dark blue.
The design can be termed as "okayish". The ear cups are nicely padded but they press a bit too hard against your ears, causing breathability issue. This shouldn't pose a problem if you just give your ears a break after 1-2 hours of use. Like most headphones manufactured these days, this one too features a built-in mic which delivers fairly loud and crisp voice call quality. Instead of the generic button design, Mpow went with a pressable dial for the controls. We can't say we feel good about it but compromisation on the design front is kind of inevitable when you are cutting cost. We understand.
The battery provides a payback time of 8 hours. Don't just frown upon it yet. Once the battery is drained, you can plug in the aux cable and start groovin' again. Don't expect a heavy bass response from a moderately priced headphone like this. The lows and mids are above average. What acts out as the saving grace here is that the sound doesn't distort even at the max volume.
It uses Bluetooth 4.1 and connects to almost any compatible device easily. You may experience dropouts in the connection in a busy environment. Aside from that, the connection remains pretty steady in less crowded areas. Although it can't drown out the ambient noise, it will help you sleep peacefully in a metro or flight, thanks to the soundproof ear cups that snugly cover your ears.
Pros
Good passive noise cancellation.
The sound quality is focused on the lower-mid presence.
Simple, comfortable design.
Foldable ear cups adds to the portability.
Can be used in both wired and wireless mode.
Cons
Not bass-heavy.
Pressable dial control scheme.
8 hours of playback time.
No products found.
8. Mpow H7 Bluetooth Headphones – The Right Combination of Stylish Design, Decent Audio and Affordability
So far, we have reviewed Mpow H1 which is undoubtedly the best among all the H series headphones, both in terms of autonomy and sound signature. Then there's Mpow Thor which delivers above average performance without burning a hole in your pocket. H7 falls in a gray zone between H1 and Thor.
Its 40 mm large drivers pump out a deep and full bass, delivers clear vocals and mids are delightfully punchy. You can also manually manipulate and balance the frequency using the EQ settings to tailor the music according to your preference.
The manufacturer had to make some compromises on the design front to make it a viable option for those on a tight budget. The ear cups don't fold at the hinge. However, they can be rotated for easy portability. The earmuffs, as well as the underside of the headband, are lined with lots of protein ear pads.
The ear cups gently hug your ears, providing a good insulation and reducing sound leakage. However, wearing over-ear headphones like this for long hours can make your ears warm and sweat. So, yes, the breathability issue is there. But if you can get past that, the Mpow H7 is quite a catch for such a low price. We did not have any issue with the Bluetooth connectivity and 15 hours of runtime on a single charge certainly deserves some praise.
Pros
Deep and full bass.
Surprisingly good low and mid presence.
15 hours of battery runtime.
Seamless BT connection.
EQ settings.
Cons
Not comfortable enough for prolonged use.
No products found.
9. Mpow H7 Plus Bluetooth Headphone – Best for Bass Lovers on Budget
If you can manage to stretch your wallet a little more, this upgraded version of Mpow H7 will be worth every extra penny. Like H7, the earmuffs of H7 plus also have a circumaural design which leans against your ears. The ear muffs are lined with a generous amount of protein pads and an adjustable headband. The ear cups are quite steady and can be worn during a rigorous workout for up to 4 hours without any issue.
The powerful full bass and distortion-free highs can be attributed to its hidden passive radiators. The tight and warm bass combined with velvety smooth mids make classical rock sound dope on these headphones. Like all the other Mpow H series BT headphones, this one too features a built-in mic. What distinguishes it from others is the use of CVC6.0 noise reduction technology.
Thanks to this, the voice quality of the incoming calls on phone or Skype won't have any unwanted fuzziness or background noise. With 13-15 hours of battery life, you can chat with your friends, communicate with your work associates, do those extra reps at the gym or simply take a stroll in the porch with these headphones on, completely immersed in the magical world of music.
Pros
Affordable price.
Comfy, pillowy ear muffs.
The ear cups can be removed for cleaning purpose.
Incredible bass and life-like sound experience.
13-15 hours of battery back up.
Cons
Takes almost 4+ to get fully charged.
No products found.
10. Mpow H8 Review (ANC) – Best Budget Active Noise Cancelation Headphone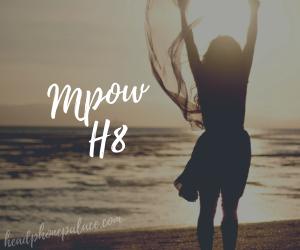 Between H5 vs H8, our vote (and most probably your votes too) will go to H5 as the best Mpow noise canceling headphone. But if you are on a shoestring budget and looking for a good pair of headphones that'll cancel out external noises such as traffic noise or commotion in office, Mpow H8 is definitely worth a look. The ANC button can be turned on or off if you like.
The pillowy ear muffs that swivel up to 90 degrees are quite gentle against your ears. You can wear them for hours end at a time, even during workout without fatiguing your ears. The lightweight of the ergonomic headphones also adds to the comfort level. All the controls are nicely laid out on the right earcup. You will get used to which button does what after one or two hours of use.
As far as the sound output is concerned, H8's sound signature is primarily bass focused. The lows have a great thump and rumble which makes it ideal for most chartbuster tracks of the current times. The highs aren't tinny. Add to that, there's 15-20 hours of playback time and fast Bluetooth connectivity couples with H8's suave looks and well-defined, balanced tones. What else can you possibly ask for?
Pros
Above average Active Noise Cancellation, best for drowning out white noise.
Lightweight, well-padded ear cups that doesn't hurt your ears after prolonged use.
Easy-to-maneuver controls on the right ear cup.
Best suited for listening to today's pop music.
15-20 hours of battery runtime.
Cons
Not a good option for classical rock or philharmonic orchestra lovers.
No products found.
11. Mpow H9 Bluetooth Headphones On-Ear – Best for Producing Clear and Powerful Lows
The not-so-overwhelming design of Mpow H9 makes it a feasible option for people will relatively small ears. It simulates a good amount of active noise cancelation too, letting you focus on your work or sleep when you are stuck in traffic or in a public transport. We have to admit that the lows reproduced by these headphones are quite powerful.
You might not even have to turn up the volume of your main sound source to hear the hush-hush conversation between Lord Varys and Littlefinger. The highs and mids are crisp, clear and well-rounded. Even at max volume setting, the vocals and instruments don't sound tinny.
The ear cups are adequately cushioned with protein pads and they don't press hard against your ears. Moreover, it allows for 12+ hours of usage time which is more than what most headphones in its price range provide. Yes, there were some occasional Bluetooth stuttering but nothing serious about it.
Pros
Comfortable yet sturdy design.
Can be worn during workout.
Provides a good amount of active noise cancellation.
Lows pack quite a punch, the highs and mids are super clear.
12 hours of playtime time.
Cons
BT connection dropouts in crowded places.
Bass response isn't up-to-the-mark.
No products found.
12. Mpow H12 Active Noise Canceling Bluetooth – Best Overall
If you want to buy the best ANC headphones without blowing your budget for the premium Bose headphones, Mpow H12 is your best bet. Although it can't filter human voices, it can effectively isolate engine noise, traffic noise and other types of surrounding noise in a crowded environment. While studying or completing your assignment, putting on this headphone will keep you from diverting your focus.
Also, the headphones are quite comfortable to wear for hours end, thanks to the retractable headband and lots of protein pad on the ear muffs. The audio is quite crisp and has a surround-sound feel. BT pairing with any device is a cakewalk and the 9 hours of battery backup is just about fine if you are an avid traveler. Another tiny but significant feature is that the BT lets you connect with two devices at a time. This may not be useful feature for everyone, yet it's nice to have it than not.
Pros
Extremely comfortable to wear.
Ergonomic design.
Easy controls.
No issue with BT pairing.
Loud and clear audio.
Cons
Cannot block human noise.
No products found.
MPOW Headphones Pairing Instructions
So you got your new MPOW headphones. But now we need to figure out how to use it, right? You can always check the manual of course. It should explain everything. But if you have already been through that and are here looking for how to connect Mpow Bluetooth headphones, then read on.
Firstly, charge your headphones. Or if you have already done that, check once more. You don't want to go through half the process and have it shut down on you. Don't worry if the battery is not fully charged. It won't take more than a couple of minutes to pair up.
Then turn it on. Check the ear cups and you will come across the power button. Once the LED begins to blink red and blue, you can start.
Often, the most careless thing we do is start pairing a Bluetooth device, only to discover that you haven't turned on the Bluetooth on your phone. We know, most of us have done it several times and then panicked that my new headphones aren't working.
So turn it on and check twice. If it's not connecting, that should be the first thing that you check. And then if it is, you can have your fill combing through the manual or Google for other issues. Some phones or devices might not be receptive to unpaired devices. So make sure that it is visible to all Bluetooth devices.
Now let your device scan for connections. It should come across your headphones model and display it. Pair the device with your headphones.
It might seem a lengthy process but this is just a one-time thing. You don't need to go through this process over and over again. The next time you want to connect it, it is not necessary to redo all the steps of the Mpow Bluetooth headphones pairing.
You can connect it to any iOS or android devices. Of course, if you are using a laptop, you won't need to turn on the Bluetooth first. That is just for smartphones and tablets.
How to Connect Mpow Bluetooth Headphones to Android?
No disrespect to any other devices, but Android is probably the easiest to use. If you are using one for the first time figuring out the Bluetooth pairing process is important. To connect the Mpow headphones to an Android smartphone or tablet, turn on the Bluetooth first. The easiest way is through the Notification shade.
Swipe down the Notification shade. You will find it at the top of your screen. It is the one that always annoys you with untimely pings and messages.
At the top of the screen, you will notice the Quick Settings panel. If the Bluetooth icon is visible, click on it to turn it on. If it's not, the look for the down arrow and press on it.
You will find more icons and no doubt the Bluetooth one. Click on it once if you want to turn it on.
If you want to pair your headphones, press and hold for a few seconds. A new screen will open up showing the visible devices in the vicinity. Choose the headphone model to pair.
If it does not show your headphones model, scan for Bluetooth devices once again. Some devices may not automatically scan, to begin with.
If you are looking to unpair your headphones for any reason, press and hold the Bluetooth model display in the paired devices list. It will provide you with the option to unpair or to Forget the device.
You have to pair it again the next time you use it, in this case. Otherwise, you can just switch on your headphones, and that will do. It will automatically pair up.
How to Reset Mpow Bluetooth Headphones?
If you want to connect your headphones to another device, go through the unparing process with your paired device first. Then you can use the same method to connect to another device.
How to Turn on Mpow Bluetooth Headphones?
We know it sounds silly. We mean how difficult can it be to turn on a pair of headphones? But honestly, We understand. It's new and you don't want to break it. You panic every time, it beeps, wondering if it's supposed to or not. So it's safer to just follow instructions rather than going "OMG! What the hell!"
As we mentioned above, the power button for the Mpow headphones is located in the ear cuffs. Left or right depends on which model you buy. But just look through both to be sure. Then press it. You will see the LED light blinking red and blue or green maybe.
As we mentioned above, the power button for the Mpow headphones is located in the ear cuffs. Left or right depends on which model you buy. But just look through both to be sure. Then press it. You will see the LED light blinking red and blue or green maybe.
Now you can get to the pairing process. If it doesn't start flashing immediately, don't panic. Wait for a few seconds first. It might take some time. To turn it off, switch on the power button again.
See Our Top 10 single earbuds list
Wrap up
So that was it, good folks! Beyond a shadow of doubt, Mpow H series headphones deliver unflinching audio performance along with several other practical features. All these at the fraction of a cost of its premium counterparts such as Shure, Bose, Beats and so on. In this article, we have done our best to thoroughly review the best Mpow Bluetooth headphones the market has to offer.
To add to your convenience, we have also added a short buying guide that'll give you a better idea of how Mpow Bluetooth earpieces work. Hope our effort pays off and our article helps you find the best pair of Bluetooth headphones for the audiophile in you.
Last update on 2023-09-29 at 20:41 / Affiliate links / Images from Amazon Product Advertising API