So you want the best single earbud for hands-free communication but you are afraid that you might choose the wrong product. That's okay, we get it. There are like millions of products to choose from and each looks more promising than the other. Confusion kicks in! We feel you.
To take some of the chore out of this mammoth task, we have narrowed down your options to 10 models that lived up to our ridiculously high standards.
Here's what we have in store for you:
Detailed Reviews of 10 Mono Earpieces We Trust
01. Sony Playstation 4 (PS4) Mono Chat Earbud with Mic
Sale
The Sony Playstation single mono earpiece costs peanut, a quality Sony is not at all known for. So we understand if you doubt it's quality, we did too at first. But upon deeper digging, we found that this device delivers on its promise.
This original Sony product is originally designed for PS4 but we tried using it with iPhone and Android phones and it worked seamlessly. The bud is water-resistant, hence, it can survive sweaty ears on a muggy day.
The headset includes only a mic mute button, no volume control or anything else. It squeezes out decent audio for the price, allowing you to communicate with your co-gamers for hours without straining your ears and shoulder.
Pros
Has a mute button.
Minimalist, functional design.
Water-resistant.
Good audio quality for such a small price.
Cons
One-size-fits-all earbud, no addition tip included.
02. Sharktooth Single Earbud Stereo-to-Mono Headphone
Single Earbud Stereo-to-Mono Headphone w/Mic (Black/Silver),...
STAY SAFE IN BUSY ENVIRONMENTS: Convenient single-earbud design improves safety when running,...
HEAR YOUR AUDIO AS INTENDED: Advanced stereo-to-mono circuitry allows you to hear both right and...
ERGONOMIC DESIGN: Comfortable fit with small, medium, and large earcups included. Noise-isolating...
ANSWER CALLS WITH IN-LINE-BUTTON: Handy button control allows you to answer calls and play/pause...
This high-quality sleek and stylish mono earphone is our pick for the best single earbud for driving and. Here's why:
First of all, it comes with three different sizes of earbud tips to let you customize the fitting according to your ear size. The earpiece stays put smooshing your ears under the helmet. You can wifty answer your calls while driving the using the handy in-line button connected to a tangle-free cable.
This button also lets you skip to the next song with a double click and activate voice command on your phone if you hold the button down. The mic quality is as clear as it could be on a mono earbud under $30. No static noise to ruin your calls.
The overall design is pretty basic with sweatproof foam tips which are, by the way, more comfortable than we expected. It fits properly on both left and right ears. We were pretty impressed by the build quality too. By the looks of it, this bad boy can withstand moderate abuse. Don't smash it on the ground to test its strength, though.
Now, coming to the most awesome part of this earbud- stereo to mono circuitry. In simple terms, your earbud will pick up sounds from both the right and the left stereo channels.
This means you can hear full stereo sound from a single headset, which is quite a novelty for a product at this price. The sound itself is crystal clear peppered with punchy bass, which makes it perfect for a long drive on a solitary day.
Pros
Lets you hear both left and right stereo channels.
Securely stays in place while driving.
Comes with three different sizes of tips and a cover for the earbud too.
The control buttons are easy to figure out.
Tangle-free flat wire.
Cons
The clip included with the device for attaching the cable to your shirt comes loose quite often.
03. GoNovate G8 Wireless Mini Earbud
GoNovate G8 Bluetooth Earpiece Wireless Mini Earbud, 6 Hrs...
【W/ 2 WIRELESS MAGNETIC CHARGERS】Includes 2 hassle-free magnetic USB chargers, leave 1 at home...
【DISCREET EARBUD W/ NO FLASH】Take this tiny earpiece anywhere and pop it into your ear when the...
【BEST-IN-CLASS PLAYTIME】Built-in 55 +/- 5 mAh Lithium-Ion battery, 5-6 hour audio playtime at...
【COMFORTABLE, SECURE FIT】G8 earbud feels so light and natural you'll hardly notice it's there....
We loved the suave yet low-profile design of this mono earbud. It snugs your ear canals and ensures a tight acoustic seal. They are comfortable enough to wear all day, even while working out, thanks to the moisture-resistant ear cups.
This Bluetooth device comes with a stylish magnetic charge which works exactly how it's supposed to. It receives a full charge in roughly 45 minutes and runs for 4-5 hours or less, depending on your activities.
You can easily connect to two devices simultaneously with this. The call quality is fine in quiet to moderately noisy places. The sound quality is pretty decent for audiobooks and podcasts. But don't expect it to blast high-quality music with tons of bass.
Pros
Great device for listening to audiobooks.
iOS compatible.
Steady Bluetooth connectivity.
Connects to two devices at the same time.
Easy-to-use controls.
Cons
There's an automated voice battery level indicator that screams " battery low" right into your years for a full minute non-stop. Some iPhone 7 users have reported audio delay issues.
04. Plantronics Explorer 50 Bluetooth Headset
Plantronics 202340-21 Explorer 50 Bluetooth Headset - Retail...
Bluetooth headset: Wireless headset for mobile calls, streaming music, and GPS directions. They...
Noise reduction: Plantronics technology provides noise cancelling technology to provide clear, crisp...
Comfort: Lightweight Bluetooth headset is designed to fit comfortably on either ear for all day wear
Superior power: Up to 11 hours of talk and includes Deep Sleep Power Saving mode to automatically...
Plantronics makes one of the most durable and high-performance mono earbuds we know of. We chose this model especially because of the voice call clarity, comfort, battery life and of course, the reasonable price tag.
It lets you enjoy 11 hours of talk time which is rare for a product in this price range. The bud snugly fits small ear canals and stays in place under the helmet as well. Another minor but significant feature we noticed was the volume of the voice calls. The default volume is low-medium for calls which is10x times better than getting your eardrums smacked with loud screaming of the caller.
Pros
Lightweight and comfortable for small ears as well.
Amazing call quality.
Gives text notification alert and reads text messages.
11 hours of talk time and 18 hours of playback time on a full charge.
The main button lets you activate voice commands and automatic redial.
Excellent post-purchase customer service.
Cons
The placement of the volume button at the top is slightly inconvenient. You can hit it easily while trying to adjust the earbud.
05. FimiTech Wireless Earpiece V5.0
FIMITECH Bluetooth Headset, Wireless Earpiece V5.0 Bluetooth...
STYLISH & UNIQUE DESIGN: The 270 degrees rotatable mic allows to adjust the angle and fit this...
SMART FUNCTION & LONG BATTERY LIFE: Our Bluetooth Earpiece supports Siri voice prompt and mute...
CLEAR & HIGH QUALITY AUDIO: Noise Reduction boom microphone and Dynamic Speaker broadcasts your...
UNIVERSAL COMPATIBLE: Bluetooth Headset V5.0 with mic provide a stable call environment for you, and...
Here's another tough contender for the title of the best single earbud wireless with mic. Both the call clarity and volume of the earbud is remarkable in this device.
If your profession requires you to speak to people on phone for hours, your search most probably ends here. Apart from impeccable incoming and outgoing call quality, it is also comfortable to wear for long hours and to complement that, the battery lasts for up to 8 hours. The Bluetooth range is approx 30-35 ft., meaning you can walk around the house or office without facing connection issues.
Pros
Suitable for wearing for an extended period of time.
Would firmly rests in your ear while running, biking or working out.
Good for talking on the phone in quiet to moderately loud places.
Crisp and clear sound.
Long battery.
Cons
Takes a while to get a hang of the controls.
06. JLab J6MS JBuds Stereo to Mono In-Ear Single Earbud
No products found.
This one is by far the most acoustically advanced single earpiece featured in this list. It uses a top-of-the-line driver to produce a better output frequency range. The device picks up the subtle nuances of a track which makes it a perfect companion for a long drive.
Our only gripe about the audio is that it doesn't let you hear sound from both channels. Not a major tradeoff, though, if you consider the price and overall usability.
Moving on, the standard 3.5 feet cord fits almost every device you can think of. The voice sounds clear as daylight through the mic, which is a huge plus if you need to be on phone for most part of the day. It sits into your ear comfortably and holds up well to pools of sweat. Bonus points for the loud volume which lets you hear your caller clearly even in windy conditions.
Pros
Comes with multiple ear tips to help you tweak the fitting.
You could wear it for hours without requiring constant readjustment.
Incredible call quality.
Great for streaming music as well.
Ideal for receiving calls in loud environments.
Cons
Not recommended for running or exercising as moving the cord too much produces mild vibration sound in the ear.
07. NENRENT S570 Bluetooth Earbud
NENRENT S570 Single Bluetooth Earbud Smallest Mini Invisible...
【Bluetooth Wireless Earbuds】Supports Multipoint Technology Can connect to two different devices...
【Ergonomics Design】The NENRENT S570 Earbud is designed according to ergonomics and the S570 is...
【Longest Service Time】 Built-in high performance rechargeable Lithium-poly 60mAh battery,High...
【Perfect Compatible】Clear HD audio for listening to Audiobooks, Podcasts and Netflix, decent for...
The next model on our list has a rather unassuming, albeit very functional design. This one falls on a rather higher side of the price spectrum but there's a good reason for it.
If you are an audiophile who wants the convenience for a mono earphone and the audio quality of a regular earbud rolled into one, S570 fits the bill. The HD stereo sound is not gimmicky. It does sound as good as a single earphone under $50 possibly can.
The mic quality also deserves a lot of praise, which applies to both incoming and outgoing calls. Considering the size of the earpiece, we can safely say that it will provide a tight and comfortable fit for people with extremely small ear canals. However, that inadvertently makes the device unsuitable for people with large ears. Keep it in consideration during product selection.
Pros
Outstanding battery life.
True HD stereo sound.
Loud enough to use in noisy public places.
One easy-to-use multifunction button.
Comes in a nifty zippered storage case.
Cons
Occasionally suffers from connectivity issues while jogging or cycling.
08. BlueParrott B450-XT Noise Canceling Bluetooth
BlueParrott B450-XT Noise Cancelling Bluetooth Headset –...
Industry leading sound: The BlueParrott B450 XT Noise Cancelling Bluetooth Headset is engineered for...
Long wireless range: Walk and talk with no worries; The BlueParrott Bluetooth Headset has a...
Long haul comfort: You can wear your BlueParrott headsets all day long; They feature a bigger,...
24 hours of talk time: Have all day conversations, with up to 24 plus hours of talk time and 500...
You have already had come across this product while doing your own research, didn't you? Now you want to know if it's worth what it costs. After analyzing the quality of specs it offers and skimming through the user reviews, we can safely conclude that it's a steal deal.
24 hours talk time, 300 feet when connected to devices (about 60-66 ft when connected to phone), premium quality microphone, an adjustable headband and ear cup with ample padding- this one ticks all the boxes. As expected from a mic in this price bracket, it is fully adjustable for optimal convenience.
The voice comes through crystal clear even when you are driving at moderate speed through a noisy road. Brownie points for the fantastic noise cancellation ability. Even in a subway or airport, the person on line could easily assume that you are in a quiet room.
Pros
Effectively picks up the nuances of vocals and instruments.
Approx. 60-66 ft. Bluetooth range when connected to phones.
Fully reversible mic.
Loud and clear call volume.
Cancels a good amount of ambient sound in moderately noisy surroundings.
Cons
The unit could be a little bulky for some.
09. AMINY Bluetooth Headset
Sale
AMINY Bluetooth Headset Wireless Bluetooth...
【Comfortable And Secure Fit】Aminy bluetooth headset design by ergonomics, the 3-point-supported...
【Super Clear Voice For Talking】Aminy wireless headset adopted unique acoustics and music...
【Two Batteries】Each battery can support 14 hours talk time and take like 1~2 hours to full...
【IPX6 Sweatproof Bluetooth Headphones】Aminy bluetooth earpiece with inner nano-coating material...
Unique 3-point design and dual batteries make this product shine through in this cut-throat market competition. Every model is advertised to be lightweight and comfortable enough to wear for a prolonged time. But very few stay true to this promise. Aminy headset is, fortunately, one of those rare breeds. You can keep it on your ear for several hours without feeling its presence much. We kid you not!
Despite its modest price tag, it is surprisingly packed with a number of bells and whistles. You can activate Google Assistant or Siri by simply clicking the call button twice. If you are someone who spends 8-9 hours a day on phone calls, this one is definitely worth having a look. You will get a decent Bluetooth range of 30 ft with this headset.
Pros
Lets you talk for nearly 9 hours at a time.
No crackling sound.
Voice comes through the mic with optimal clarity.
Feels comfortable to wear, even with the glasses and helmet on.
Cons
Average Bluetooth range (roughly 30 ft).
10. COMEXION Wireless Bluetooth Earpiece
COMEXION Bluetooth Headset, Wireless Bluetooth Earpiece V5.0...
Convenient & comfortable - designed to fit in either ear, The retractable ear hook and Flip-boom arm...
Bluetooth 5.0 technology - Provides fast and stable pairing with any device that has Bluetooth...
Hands-free for calling - This Bluetooth headset With mic Supports Siri and Google voice assistant....
Noise cancellation- built-in HD microphone with advanced CVC6. 0 noise reduction technology blocks...
This little wireless mono bud delivers for the price. It is compatible with all Bluetooth smartphones and computers, just like we expect from any model in its league. It is an over-the-ear type device which naturally results in a more secure fit.
The back of the earpiece isn't very large. Hence, it won't bother you at all even if you are wearing reading glasses. The volume of this earphone is considerably louder than all the mono headsets we have encountered during our research.
If you are only using it for phone calls, the battery should have enough juice to fuel 8-9 hours of voice calls. To top it all, it also blocks external noise quite well, which makes talking on the phone while driving a breeze. No more incessant "hello, can you hear me clearly now?".
Pros
Connects to two devices at once.
Comes with 6 different sizes of rubber covers for custom fitting.
Perfect for all-day use due to lightweight construction.
Compatible with all Bluetooth enabled devices.
Loud, crisp and vibrant sound.
Cons
According to the manufacturer, the device should not be charged in the car.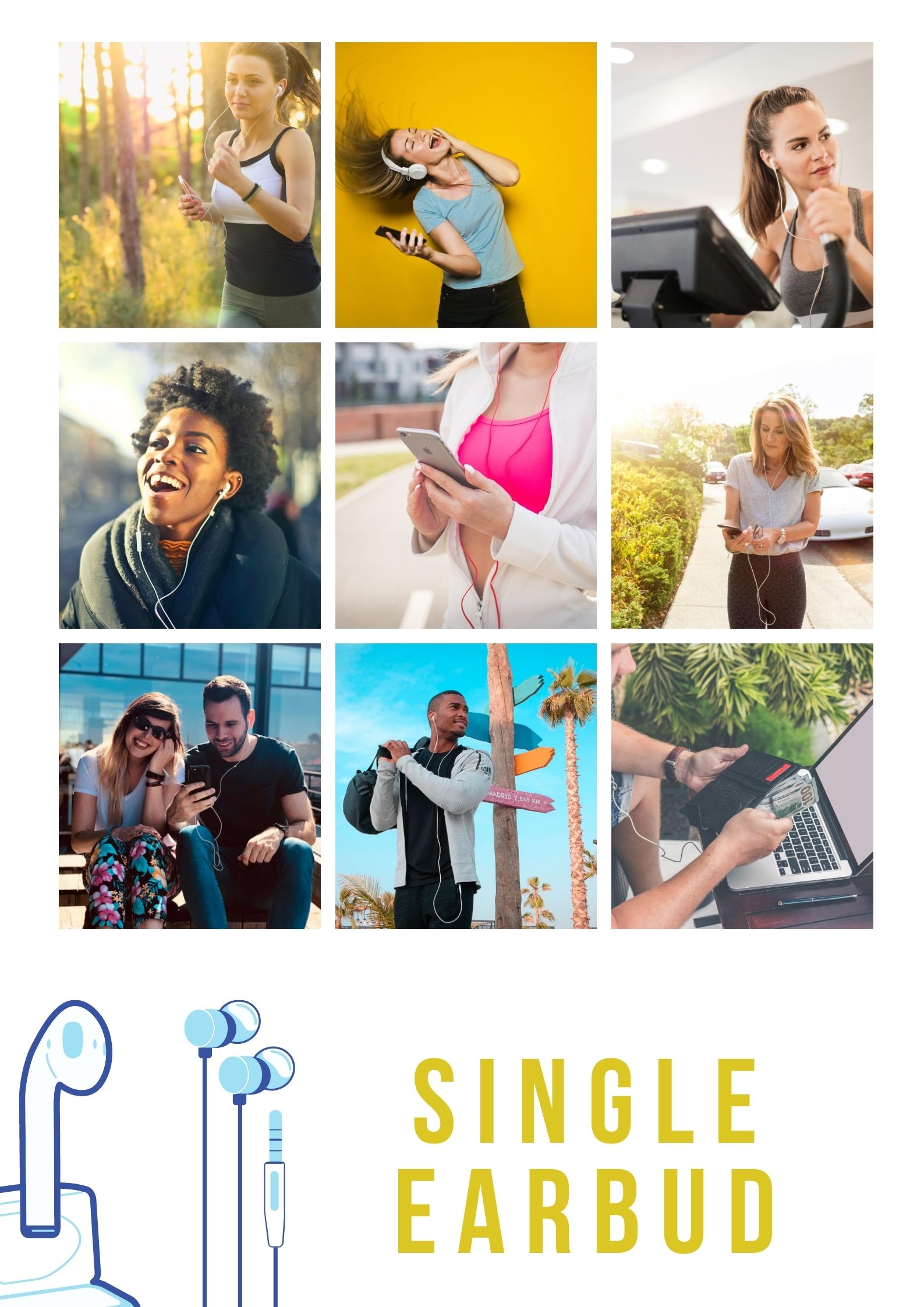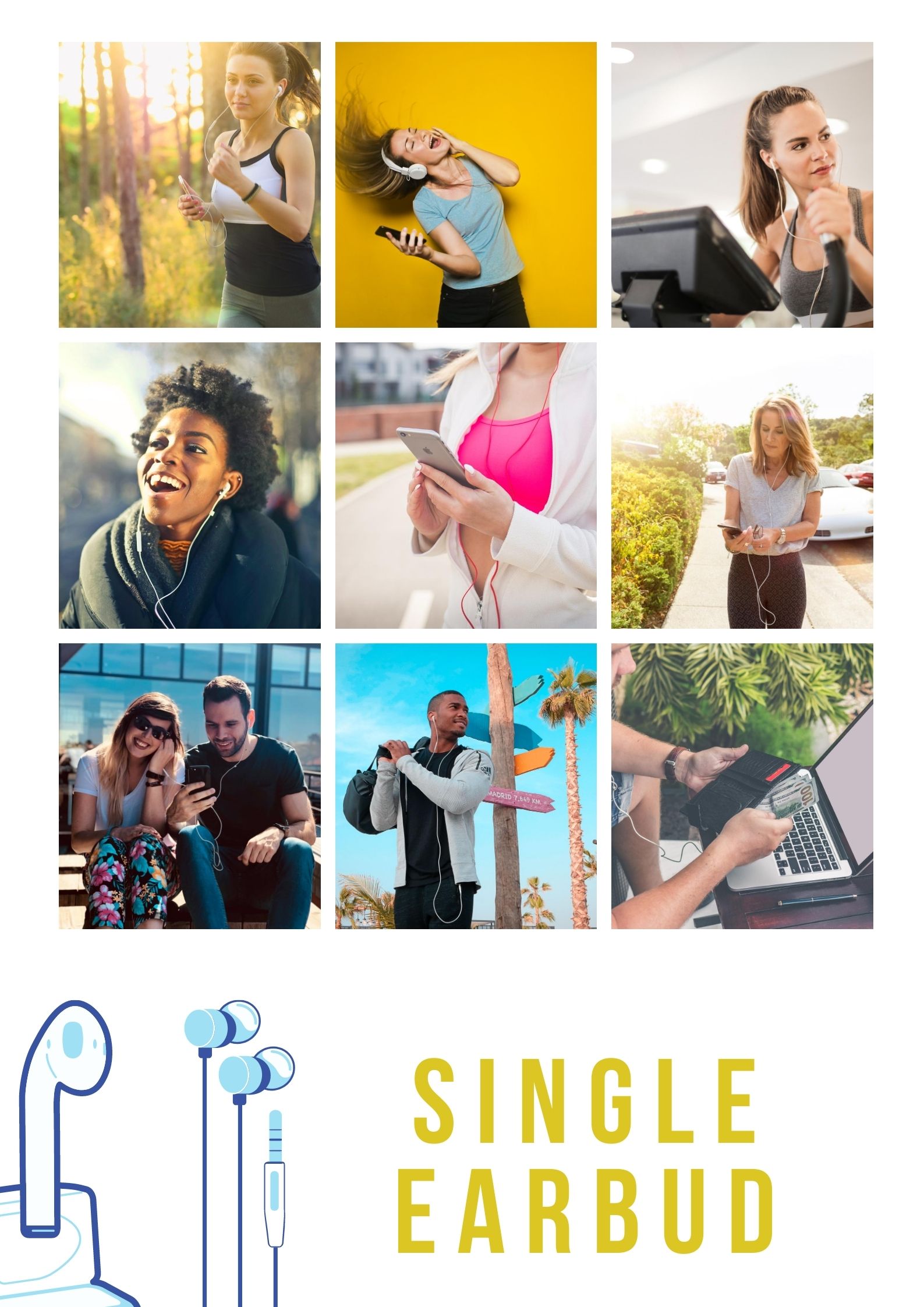 Also Read:
Conclusion
Here's hoping that you finally found what you came here looking for. Glad we could help. Single earpieces are an amazing piece of tech but it's quite difficult to find a model you can actually trust, as is the case with every machine ever made (and even people!). Our team did the extensive research part on your behalf because that's what we love to do.
That will be all from us for today. Thanks for reading and good luck with your purchase.
Last update on 2023-05-31 at 10:49 / Affiliate links / Images from Amazon Product Advertising API