Are you in search of a wooden headphone, but you are facing difficulty to pick the excellent quality wooden headphone that meets all your demands? Today's lifestyle demands more versatility than before. A wooden headphone is undoubtedly a versatile headphone because wooden formulation brings all the finer details that you can reasonably expect from a headphone.
Besides, most world-class music instruments are crafted with wood. It's true that wooden formulation not only sooth our eyes but enhances sound quality and makes the sound more natural. Let's not abuse your patience. In this article, we have outlined 10 best wood headphones/earphones that your money can buy. Read below to discover more!
Top Buying Factors When Getting a New Pair of Wooden Headphones
You will find hundreds of over-ear wood headphones available on the market. But choosing the best wooden headphone can be challenging. If a headphone doesn't satisfy all of your requirements, the money is in vain. Of course, you know about headphones. Still, have a glance at our buying guide, and you may come across some new features that you never heard before.
To let you make the right decision, we have outlined below top buying factors when you are considering getting a new pair of headphones made of wood. Specifically, for inexperienced buyers – this buying guide can be beneficial.
1. Wood Material
Wood material affects the sound quality a lot. And choosing a wood material is a difficult one. Thus, you need to pay attention to the wood quality a lot. Usually, the ear cups are composed of various types of woods.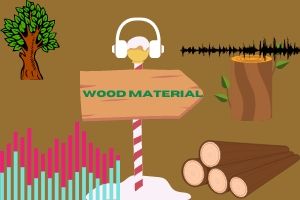 Walnut, maple, and cherry woods are commonly used for the ear cups structure. Make sure your chosen wood material features anti-stain polish and sweat resistant.
Always select a wooden headphone that offers genuine natural wood and excellent finishing. Also, the wood formulation must not make the headphone bulky.
2. Durability
Surely, you don't want to replace your headphone frequently. Thus, choose a wooden headphone that is sturdy and built to last. Since you are investing the right amount of money for a headphone, you want your headphone to last for a long time. Such an expectation is reasonable.
Make sure the paint/polish of your wooden headphone features anti-stain, sweat-resistant, and water-resistant. Otherwise, a liquid substance can harm the wood condition. It's better if your chosen headphone uses nuts and bolts for the joint attachment instead of glue. Also, the headband must be composed of a sturdy iron material e.g., the aluminum alloys. Keep in mind that throughout the usage, your headphone is going to take a lot of hit and pressure. Thus, don't pick something fragile and cheap in quality.
3. Audio Quality
Audio quality is the main deciding factor, and you should consider this factor very carefully. Wooden headphones offer not only great advantages but also some significant disadvantages when it comes to sound quality. Pray take these following factors into your account:
• Frequency Response
The standard frequency response is between 20Hz and 20 kHz, and you can perfectly go to this frequency level. But for professional audio quality, the range should be 5Hz – 33 kHz. Yet, it doesn't always necessarily means better frequency response means better sound quality.
• Noise Isolation
To experience the right sound quality, your headphone must come with a great noise isolation feature. Noise isolation features mainly prevent external sound from interfering with your music listening experience. Usually, the ear cups cover your ear structure completely and deliver you the pure audio sound. Sealed ear, closed-back, and open back designs are commonly used for noise isolation feature. Try to avoid headphones with noise cancelation features because these headphones often require a battery, and the cheap quality ones often add odd noise.
• Audio Driver and Impedance
It would be great if your chosen headphone has built-in standard Loudhailer Diameter ranging from 40mm to 50mm. Primarily, the driver size is mostly responsible for producing dynamic and detailed sound. Also, a headphone with low Impedance (32 ohms) makes the headphone more power-efficient.
4. Comfort
An excellent audio gear must be comfortable to wear. Otherwise, you may experience head strain or fatigue after a few minutes of wearing the headphone. When it comes to your comfortability, you need to consider a few things. The headphone weight, headband adjustability, and ear cups softness need those considerations. The headphone must not be bulky. Pick a headphone that features a stretchable headband, easy adjustability, and softly padded. Also, the ear cups must feature soft foam padded and sit perfectly around your ear.
5. Connectivity
Most wooden headphones feature wireless and Bluetooth connectivity. But wired wooden headphones are available too. If you are choosing a wireless headphone, you need to consider the battery life, Bluetooth compatibility, and range.
Choosing a headphone with good battery life can be a great choice. The battery life should last between 7 to 10 hours.
A stable Bluetooth connectivity can even work from 30FT distance. Thus, choose something that offers excellent networking.
Make sure the Bluetooth version is up to date. A Bluetooth 4.0 version offers compatibility to any smart device.
Top Pick Wood Headphones Review
1. Symphonized Wraith 2.0 Premium Genuine Wood Over-Ear Headphone
Symphonized is best known for producing wooden audio gears over many years. Also, Symphonized mostly provides handcrafted headphones out of genuine wood, which is tested meticulously. When using Symphonized, it's a everyday companion.
Similarly, Symphonized Wraith 2.0 is entirely constructed of acoustic wood. For sophisticated fashion and superior sound quality, the wood chosen from walnut, cherry, or maple tree. Such wood formulation is mainly responsible for producing a clean and crisp sound. Admittedly, it's a lovely piece of equipment.
This level of craftsmanship delivers you a unique and unprecedented listening experience. Besides, the engineering level of Wraith 2.0 ensures long-lasting performance along with a strong structure. When it comes to your comfort, the ear cups are luxuriously-padded with cushion for extended period usage. Also, the headband offers an adjustable slider for perfect and custom fit to your head. The overall feature makes it the best wood headphones under 100.
Pros
Sleek metal and rich wood material confirm the vintage design.
The crafted level ensures loud, forceful, and live sound.
Ultimate noise isolation.
Includes a good looking sleek protective case.
Dual cords with a single microphone.
Cons
Not a good option for a DJ.
Poor quality cord.
2. SIVGA SV005 Hi-Fi Headphone with Over-Ear Studio quality Over-Ear
SIVGA SV005 Hi-Fi Studio Over Ear Headphones Comfortable...
HANDCRAFTED & SUPERIOR SOUND QUALITY - Handcrafted with Natural Walnut that you can identify each...
PROFESSIONAL ACCESSORIES - Airplane Adapter: Plug the headphones cord into the adapter and insert it...
COMFORTABLE - Two Ear Cups can be rotated up to 180°, convenient for single-side monitor....
TWO INTERCHANGEABLE CABLES - The one with built-in mic: Enjoy a hands-free listening experience with...
SVIGA Headphones are the best result of the rigorous professional test, and the SIVGA professional team has brought you superior sound quality along with triple frequency equalization. Frankly, Djs are just mad about this headphone.
The handcrafted housings are composed of natural walnut wood. The wood grains are like fingerprints that you can identify your headphone from a thousand similar headphones. The wooden formulation is excellent for an excellent balanced, crisp sound.
The closed-back design eliminates all external sound and is responsible for optimal noise isolation. The ear cups are padded for comfort with a soft pillow, which ensures optimal comfort. Also, the stretchable headband has built-in premium leather, which is flexible to fit any head shape.
On top of that, a built-in 50mm diameter loudhailer produces a 20Hz – 20 kHz frequency response. And the impedance feature accounts for 16Ω±15%. Thus, get deep resonant and dynamic sound in your every favorite song with our chosen SIVGA SV005. In a word, it's a good choice.
Pros
Wooden material confirms the superior sound quality.
Two detachable cords with a single mic.
180° rotation suits for DJ.
Cons
Often produces a crackling sound.
3. House of Marley, Voyage Bluetooth Wireless Earbuds
House of Marley Voyage: Noise Isolating Wireless Earphones...
SUPERIOR SOUND: Featuring a noise-isolating design and 8mm dynamic drivers, experience textured...
PREMIUM COMFORT: Ergonomically crafted, find your perfect fit with the 2 size ear tips and 2 size...
RECHARGEABLE & COMPATIBLE: Enjoy a continuous 6 hours of playtime from the powerful and rechargeable...
CONVENIENT FEATURES: Voyage offers an onboard microphone for convenient hands-free calling, making...
Our chosen House of Marley is the best wooden wireless all-in-on earbuds that your money can buy. This bamboo made earbuds offer sweat-proof, ultimate noise isolation, durable tangle-free cord, in-line microphone along with a three-button remote, and a travel stash bag. The eye-catching panels of these earbuds add a stylish look in your daily life. The groups are formulated with sleek bamboo and 70% bio-based resin. You can use it anywhere, while jogging, in Gym or anywhere.
Besides, the House of Marley adds further benefits to sports enthusiastic people. The sweat-proof feature and adjustable neck cable make it a perfect music kit for workout, games, and travel. Also, it is equipped with Bluetooth 4 technology and has built-in a rechargeable battery. With this wireless feature, you can listen to music for up to 6 hours.
This earbud matches each and every requirement from the user end and brings the best sound quality. In comparison to similar class earbuds, its performance and result is one step ahead to hit your choice list.
Pros
Ergonomic Port confirms the ultimate fit during a workout.
6MM Driver for superior dynamic sound quality.
Cord includes a single microphone with three-button control.
Optimal fitting with three different sized ear gels.
Cons
The battery lasts up to 6 hours only.
4. SIVGA SV007 Premium Wood Over-Ear Open
SIVGA SV007 Premium Wood Over-Ear Open Back Hi-Fi Headphones...
WOODEN CLASSIC - SIVGA headphones features classic style and unique sound quality. Handcrafted with...
EXCELLENT SOUND EFFECTS - SV007 features deep bass and exceptional audio quality. Open back design...
BULIT FOR COMFORT - Two Ear Cups can be rotated up to 180°, convenient for single-side monitor....
TWO DETACHABLE AUDIO CABLES - The one with built-in mic: Enjoy a hands-free listening experience...
Our chosen SIVGA SV007 has taken inspiration from its sibling SV005, and further developed in elegant classic style and unique sound quality. The overall structure of the ear cups made of natural rosewood wood, which delivers an acoustic listening experience anywhere to you. Also, the wooden structure brings a striking look.
Built-in advanced technology is mostly responsible for producing excellent bass audio quality. It was further improved by open back design that reduces ear damage and delivers Hi-Fi big soundstage. Most noticeably, the 50mm Loudhailer Diameter produces a 20Hz – 20 kHz frequency response. Perfect for listening to any music genres. Frankly, the best open-back wooden headphone you can get under 150 is the SIVGA SV007.
On top of that, the two ear cups rotate up to 180-degree which facilitates a single-side monitor. Besides, your comfortability has not been compromised in any way. The stretchable headband comes with a premium leather structure, enough flexibility to fit any head shape. Also, the soft ear pads perfect for long hours of music listening to sooth our mind.
Pros
Wooden structure.
Adjustable headbands.
Multidirectional 180° rotation perfect for DJ.
Two detachable cords with a single mic.
Cons
The aluminum structure is not quality.
Cases are made cheap.
5. Floyd Rose FR-18 Wood Headphones
Floyd Rose Headphones, White (FR-18W)
Wood and metal construction Padded headband Detachable headphone wires Impeccable sound quality...
Floyd Rose FR-18 Wood headphones are hand-crafted and deliver world-class sound combined with...
Delivering true balanced highs and lows for superior audiophile sound, the FR18B delivers flawless...
A 50mm driver diameter and full 20-20K Hz frequency range give a beautifully warm and articulate...
If you are looking for a music kit that offers world-class sound quality along with built-in Hi-Fi technology; then, pick none other than our chosen white wooden Floyd Rose headphone.
FR-18 is designed to deliver you a real balanced sound and allows you to hear every high and low pitched tune. Also, the excessive craftsmanship brings flawless clarity in the music.
On top of that, this handcrafted headphone has built-in 50mm driver diameter along with a 20-20K Hz frequency response. Generally speaking, these advanced technologies will deliver you the best listening experience that you will ever have. This is not only a headphone, the sound quality is like a musical stream.
The good news is that the fabric made cord is detachable and tangle-free. Also, the wire comes with a microphone and volume control facility. And the ear cups include a soft padding cushion that delivers you the ultimate comfort and perfect noise isolation. Quality can be the best tool to pick.
Pros
Woodgrain makes each pair of FR-18 unique.
Superior dynamic sound quality.
Maximum ear protection with the fatigue-free listening experience.
6. REVEAL Bamboo Wood Bluetooth Headphones – Magnetic Wood Earbuds
Reveal Bamboo Wood Bluetooth Headphones - Magnetic Wood...
Newly Upgraded & Improved Sound Quality & Microphone as of Jan. 15 2020. These Stylish Magnetic Wood...
BLUETOOTH READY - Connect wirelessly to any phone, tablet or computer via Bluetooth technology and...
MAGNETIZED FOR OPTIMAL STORAGE & STYLE - These fashion forward bamboo wood earbuds are magnetic,...
DESIGNED WITH YOUR UNIQUENESS IN MIND - These designer earbuds come with multiple ear piece options....
REVEAL has recently launched its Bamboo Wood Bluetooth earbuds. It has newly upgraded and improved in sound quality, also comes with a microphone. You can wear this necklace style magnetic earbuds around the neck while you are on the go. On top of that, it has built-in Bluetooth and a rechargeable battery, which lasts up to 7 hours.
It's easy to connect this earbud to your phone, laptop, or tabs via Bluetooth technology. Frankly, you will have a fuss-free music listening experience. Enjoy the freedom of being real wireless with our chosen REVEAL magnetic wooden earbuds. Using this brings the touch of nature and gives peace to mind.
Besides, when the two earbuds clicked together by the magnetic power – the music turns off automatically. Similarly, when you separate the magnets – the power turns on and automatically connects to the Bluetooth. Generally speaking, the overall features have made it the best wood in earphones in the market.
Pros
Offers you several earpiece options.
Designed for unisex, and the stunning look matches any style of clothing.
A battery saving music kit.
Cons
Features noise cancellation, but noise isolation is best.
7. Meze 99 Classics over-ear headphones
Meze 99 Classics Walnut Silver | Wired Over-Ear Headphones...
Regarded as the stepping stone into the world of audiophiles, the MEZE AUDIO's 99 Classics series...
EQUIPPED with GENUINE WOODEN EARCUPS, these headphones offer excellent natural sound isolation,...
SELF-ADJUSTING PU Leather HEADBAND that spreads the weight out and fits all head sizes, making the...
INCLUDED ACCESSORIES: Hard carrying pouch for better protection, detachable 1.2m thread Kevlar OFC...
Investing for the Meze 99 Classic can be a wise decision. Our chosen Meze 99 Classics has received a place among Top 10 best closed-back headphones for all time. Also, it has received the InnerFidelity's wall of fame.
Meze 99 Classics comes with a frequency response between 15 Hz and 25 kHz. Also, it has become the most power-efficient music kit due to its low impedance, which amounts to 32 Ohm only. And easy compatibility with any smartphone and smooth servicing for its excellent make.
The ear cups are composed of walnut wood. For perfect finishing, these wooden ear cups go through 45 days of the expensive procedure. All the components are adjusted using nuts and bolts instead of glue. The promising built quality of 99 Classics has made it a long-lasting headphone and frees you from any parts replacement.
Pros
Memory foam earpads for passive noise isolation.
Adjustable headband fits any head shape.
Hand crafted and properly finishing.
Cons
Excessive amounts of bass hampers the other musical tone.
8. Onyx ELO Premium Genuine Wood in-Ear
If your budget is short, then we recommend you to go for Onyx ELO in-ear wood earphone. You can get this best all-in-one wood earphone under $50. The housing of this earphone is wholly composed of natural wood. The wood formulation is mainly responsible for costly and crisp Bass sound and perfect for acoustic performance.
On top of that, Onyx ELO comes with three pairs of silicone buds, which gives you the ultimate noise isolation and inner ear customized fit. Built-in high-quality materials, yet ultra-lightweight and comfortable. The cord is designed to be tangle-free and stylish. Thanks that this product is compatible for making it compatible with Apple devices, Android and Windows phones, and any MP3/MP4 players. It can become a perfect pick in budget.
Pros
It has a gold-plated 3.5 mm audio jack.
Natural Wood Housing.
Ultimate noise-isolating and customize the fit.
A tangle-free cord with a microphone.
9. GRADO GS1000e Statement Series Wired Open-Back Stereo Headphones
If you are looking for a headphone with over-ear and large chambers that fit around your ear and gives you a private music listening experience, then pick none other than GRADO GS1000e. Surprisingly, it flows air with the music that keeps you cool when you're enjoying your favorite songs.
This handcrafted headphone incorporates Mahogany tone-woods, which adds enhanced sound quality and aesthetic beauty. Moreover, The GS1000e has built-in 50mm dynamic transducers and a 12 conductor cable. The wood quality, cable design, and the 50mm driver facilitate a balanced sound along with a stable high and low pitched noise. Also, the cushioned large ear cups accommodate your ear perfectly and confirm a big soundstage.
They are featuring open-air operating principle, 8 – 35,000 Hz frequency response, and low impedance (32 ohms). This combined technology is mostly responsible for delivering you real dynamic, warm, and resonant sound quality being a good choice.
Pros
Rich sound quality.
Leather made headband.
G cushioned for comfort and noise isolation.
Cons
In a few cases, noticeable channel imbalance issues occur.
10. Symphonized Wraith 2.0 Bluetooth Genuine Wood Wireless Headphones
Truly inspired by the previous wired model, the new Symphonized Wraith 2.0 features Bluetooth wireless technology and rotating ear cups. Frankly, the overall design and sound quality have improved. Its exact matte-finish wood-paneled design can call anyone's attention.
This new model features original natural wood and sleek handcrafted design. The wooden formulation produces deep bass, acoustic tune, and premium crystal clear sound like the first drop of dew.
Other areas of improvement include durable construction, long-lasting comfort, and ultimate noise isolation features. Also, the luxury vegan ear pads accommodate your ear perfectly. The moveable wooden ear-cups facilitate a single ear monitor. And the pillow-soft padding adjustable headband confirms comfortable fitting to your head.
On top of that, the Bluetooth can even work from 32FT distance. And the rechargeable battery can perform up to 10 hours. Frankly, the overall features make it the best wireless wood headphones under 200.
Pros
Fast charging within 2 hours.
4.1 Bluetooth compatible with any smart device.
40mm drivers, along with 18Hz – 22 kHz Frequency Response.
Cons
Doesn't support aptX.
Lacks durability.
FAQ: Frequently Asked Questions about Wooden Headphones
1. Do Wooden Headphones or Earbuds Sound Better?
The simple answer is wooden headphones have always been better than earbuds. Headphones still offer better sound and comfortability than earbuds. We have outlined below five reasons why wooden headphones sound better than earbuds.
The Driver: Headphones are often built-in 40mm – 50 mm giant drivers. Whereas earbuds don't offer such significant drivers. Generally speaking, a better listening experience comes with a more substantial driver. Also, enormous drivers are mostly responsible for producing good frequency responses. Read more about driver sizes.
Long listening sessions: Headphones come with an adjustable soft-padded headband. The ear cups are also soft foam-padded. For these reasons, headphones are always considered as ideal audio gear for long listening sessions. Whereas, earbuds are prone to cause you fatigue during long listening sessions.
Sound stage: Most headphones offer closed back and open back design. With these designs, you will have a broad soundstage listening experience. You will have the feeling like you are in a live musical environment, and the sounds are coming from a far distance.
At home listening: if you have a recording platform at your home. Defiantly, you are going to need a professional headphone. Over-ear headphones are always considered more professional than earbuds.
Gaming or movies: Gaming and movies feature dynamic sound. Also, for better gaming performance, you need to understand your surrounding environment properly. In such cases, the importance of an over-ear headphone is undeniable.
2. If the headphone is made from wood, will sound quality become better?
Wooden formulation adds an elegant and vintage look to your wooden headphone. Also, wood material affects the sound quality a lot. Since wood is a natural material – it harmoniously vibrates the sound. Besides, wooden headphone features original music, deep bass, and warm sound. In short, in terms of audio listening – a wooden headphone is ten times better than a metal or plastic headphone.
3. What are some over-the-ear headphones with an exceptional sound quality that has a retro wood veneer look?
Retro wood veneer headphones are composed of high-quality material and are built to last. Retro wooden veneer headphones produce more high-definition resonant sound compare to today's modern headphones.
4. What are the advantages/disadvantages of earphones/headphones made of different materials?
Wood, metal, and plastic are the common materials used to produce headphones. Each of these material affects the overall headphone quality differently.
Plastic: Headphones composed of plastic are aimed to be cheap. Other quality sacrifices are also made during production. The audio driver, cable, and other components quality are also declined in quality.
Metal: Metal headphones are excellent in quality and build to last long. They are featuring eye-catching design along with deep bass and superior quality sound.
Wood: Wood formulation headphones are also fabulous in quality. Moreover, wooden headphones offer more natural and resonant sound compare to other audio gears.
5. Is it smart to walk through the woods at night wearing headphones?
Only it's completely unsafe to walk through woods at night wearing a headphone. Such activity may bring unpleasant consequences. Wild animals in the woods become more active at night. Music can completely distract you. Also, you may not notice an incoming predator due to playing music loud.
Final Thoughts
To conclude, our chosen wooden headphones feature the best wood headphones quality that your money can buy. Hopefully, now you have good knowledge about the advantage of a wooden headphone. Frankly, wood formulation marvelously reproduces the sound. Natural wood makes the audio to become more resonant and natural.
Although wooden headphones cost more, good things come with the best value. Usually, wooden headphones are handcrafted, which gives you a real vintage experience. For those who don't have an issue with putting a reasonable price on a headphone, we recommend you to go for a quality wooden headphone. Just get one and enjoy!
Last update on 2023-06-10 at 15:31 / Affiliate links / Images from Amazon Product Advertising API