If you own an electric guitar and practice very often, then for sure, you are in search of the best guitar headphones. With a headphone, you can practice guitar till late at night or even while you are traveling. Generally speaking, a quality headphone intensifies your guitar practice.
Things to Consider in a Guitar Headphone
Not all headphones are perfect for guitar practice, and you will realize it as soon as you connect a headphone with your guitar. While you are shopping for the best headphone for electric guitar practice, a few things you must take into account before you make a purchase.
1. Headphone Type
There are different types of headphones available on the market: Circumaural, Semi-open, closed or sealed, studio, and more.
Circumaural: Such headphones are an excellent solution for over-ear-headphone with foam padding ear cups that forms a seal over your ear. Further improved by closed-back design, which encloses the back of your ear. This overall feature isolates external noise and delivers you ultimate comfort.
Semi-open: Semi-open headphones don't seal your ear completely. Instead, their design falls within the category of an open layout and a closed-back design. Remember that you may experience some sound leakage during music listening. But these headphones offer stereophonic sound, low-frequency response, and low distortion sound.
Closed or seal These headphones feature-complete ear enclosure, which provides excellent noise isolation and delivers you authentic listening experience. Closed headphones are Ideal for studio recording and better options for guitar amps.
Studio Headphones: Such headphones come with amplify features, which boosts the sound quality.
Open back headphone: Also referred to as open-air headphones. The ear cup backs are kept open to circulate air and to allow sound to move to both directions. This type of headphone lacks complete noise isolation and not an ideal choice for studio recording.
2. Technology
Pay attention to your headphone's driver quality. A good quality headphone features 40/50 millimeter Neodymium magnets, drivers. And you will be able to hear a dynamically balanced sound if your headphone frequency response ranging between 10Hz and 30,000 Hz. Besides, with a good dB/mW sensitivity ranging from 75 to 105 dB, you can hear clear music at any low volume. And with a power input of 1,000m/W, you will be able to listen to the ultimate high fidelity sound.
3. Comfortability
For long time music listening, your headphone must ensure comfortability. Pay attention to the material used across your headphone – it must offer adjustable headband for optimal fitting. The headband must not put pressure on your head; otherwise, you may experience fatigue. Also, soft, cushioned ear cups ensure comfortability. Make sure your headphone also features breathability and lightweight.
4. Cord
Choosing a headphone featuring a detachable cable can be significant. Most headphones don't come with a microphone. Using the removable cord system, you can add a receiver or quickly switch to another source.
5. Portability
You won't take a bulky headphone with you at your workplace. Choose something that is foldable and can be shortened. Also, it should fit in your bag.
Make sure your chosen headphone is lightweight, yet long-lasting building quality.
6. Noise isolation
It is the most important deciding factor while you are shopping for a headphone. Headphones with extreme noise isolation feature actual music listening experience. And it prevents the external noise from interfering with your listening experience.
We have gathered info of 11 best headphones for electric guitar and guitar amp. It will cut your hassle in searching from so many brands. Let's go through the reviews to pick the best one according to our needs.
Top 11 guitar headphones review
1. Edifier H850 Over-The-Ear Pro
Edifier H850 Over-The-Ear Pro Headphones - Professional...
ALL-DAY COMFORT - Ergonomic and lightweight design with leather pads for comfort and noise isolation
FINE TUNED SOUND - Fine tuned 40mm neodymium magnet drivers in closed back for true sound
MUSICIAN ORIENTED - guitar amplifier monitoring / auditioning equipment
TRAVEL FRIENDLY - Fold flat, Removable cable for easy transport, ¼" adapter included
We kept the Edifier H850 in the front row among our top picks. Professional Audiophiles inspired to use Edifier H850. It mainly designed for professional electric guitar, studio recording, and instrument monitor. It stands out from the crowd featuring lightweight, noise isolation, and comfortable.
Besides, Edifier H850 has built-in 40mm neodymium-magnet drivers to enhance your listening experience. Now enjoy actual music with our chosen Edifier H850.
This headphone is compatible with guitar amplifier monitoring and other auditioning equipment. Its perfect sound of upper mid, mid, and lows can be monitored. These combined unique features label it as the best headphone for guitar amplifiers. The ear-pads craved with leather, which makes it ergonomic and lightweight. Also, the ear-pads claim to feature noise isolation and comfortable all-day.
Edifier H850 is for travel and practice with it.
Pros
Equipped with 1/4-inch jack for bassists, guitar players, and mixers.
Perfect for listening to any music genres like heavy metal, EDM, rock, hip hop, and more!
All-day comfort and fine-tuned sound.
Compatible with electric guitars.
Cons
Lacks the microphone feature.
2. Samson SR850 Semi-Open-Back Studio
Samson Semi Open-Back Studio Reference Headphones, Black,...
Professional studio Reference semi-open headphones designed for tracking, mixing, mastering and...
Proprietary large 50mm drivers with rare earth magnets deliver an extended frequency response and...
Circumaural, over-ear, design with velour cushioning provides outstanding comfort for long listening...
Self-adjusting headband for optimal fit
Samson SR850 has earned the 2nd top of our top pick headphones. Its craving is with love from the manufacturer. It delivers you the most accurate and critical mixed audio or music playback. Additionally, SR850 has built-in 50mm neodymium drivers. It delivers high-frequency responses ranging from 10Hz to –30 kHz. Thanks to its high-frequency response for excellent output. It makes any tone sweet and smooth along with warm deep bass.
It features ultra-lightweight, over-ear, and circumaural design. it will free you from ear fatigue during long hour guitar practicing or studio recording. And the soft velour ear cushion makes it easy and more comfortable for music listening. Also, the semi-open design facilitates a wide sound stage and deep bass sound. It also enhances true dynamic music listening experience. In a nutshell, Samson SR850 can be a good quality headphone for recording guitar.
Pros
Self-adjusting headband for comfortable fitting.
Gold-plated 3.5mm adapter applicable to most application.
Semi-Open design for true dynamic music listening.
Studio comfort ensures fatigue-free listening.
Built-in sonic power technology.
Cons
The cord isn't detachable.
3. Status Audio CB-1 Closed Back Studio Monitor Headphones
Status Audio CB-1 Closed Back Studio Monitor Headphones with...
STUDIO STANDARD: Praised by top musicians, producers, and audio engineers, the CB-1 headphones are...
50MM Drivers: Large 50mm drivers deliver studio quality audio with a wide, expansive soundstage that...
DESIGNED FOR COMFORT: The CB-1's padded headband and overstuffed earpads were designed to be...
TWO CABLES INCLUDED + ¼ ADAPTOR: The CB-1 comes with two 9-foot audio cables - one coiled, one...
Our studio standard CB- 1 is the 1st choice of many top musicians, audio engineers, and producers. Besides, CB- 1 is an industry-standard headphone and appreciated for studio recording across the world. Also, top audiophiles and technology editors like this headphone for its outstanding performance. It's a passion for instrumentalists.
CB-1 is specially crafted for you if you are looking for studio-quality audio equipment. It is an excellent addition with wide and expensive soundstage with its built-in large 50mm drivers. So enjoy every music in the way artists love mastering engineers and producers enjoy the music. With CB-1 you will hear every detail and low-pitched sound of a tune that you have ever noticed.
If you often go through multi-hour guitar practice or recording sessions; we stay tensed about comfort. CB-1 crafted the headband and the ear-pads include memory foam padding for ultimate comfort. Finally, the over-the-ear design offers a complete ear enclosure design. It promises a passive noise cancellation feature and doesn't put any sort of pressure on your head.
Pros
True audiophile enjoyment.
Adjustable headband fits on any head size.
Perfect choice for inside and outside studio listening.
A simple, foldable, and beautiful audio gear for everyday listening.
Cons
Manufactured with cheap plastic parts.
4. Sony MDRV6 Studio Monitor Headphones
Sony MDRV6 Studio Monitor Headphones with CCAW Voice Coil
Connectivity Technology: Wired
Neodymium magnets and 40mm drivers for powerful, detailed sound
Over-ear design provides comfort and outstanding reduction of external noises
10-foot oxygen free copper cord ends in 3.5mm plug; 1/4-inch adapter included
Sony MDRV6 features a 5Hz – 30 kHz frequency response that makes us feel every low-pitched and high-pitched note of music with. Besides, a great listening tool for noise isolation.
Also, in a practice session during the long hours, it will give comfort. Its built-in oval ear-pads for ultimate noise isolation. Listening to perfect Mid, low and other tones are mind soothing with MDRV6. In Guitar practicing, And the Circum-Aural design cut-down outside noise. In long practice or studio recording, Sony MDRV6 is a perfect choice.
The headband is foam padded and wide design which means you won't feel any pressure and the weight on your head. And you won't have any head strain during long hour music listening.
Without any doubt, the 40 MM diameter driver has enhanced the sound quality. This diameter is responsible to make the sound superb dynamic and can catch the deep bass at the least 5 Hz. The cord is oxygen-free and covered with copper Litz wire. It minimizes notice as well.
Pros
Adjustable headband fits all head sizes.
Folding ear-cups makes it portable and travel friendly.
10ft cord for easy movement during music listening.
Copper-clad aluminum used in the voice coil to enhance audio power.
Cons
The clamping mechanism/head band is tight.
5. Phil Jones Bass Guitar Headphones H-850
The name itself of H-850 indicates that this headphone is made for bass guitar. Many headphones sound good upon regular music listening but performance differs when you plug them into a bass amp. The H-850 has all the required requirements and delivers high-quality deep and clear bass music. It comes with huge customer reviews for its performance.
H-850 has built-in powerful 40mm neodymium magnets to deliver you superb sound quality. It includes best music analytics as well as bass music instruments.
It features excellent acoustic isolation. It prevents the external sound from interfering with your listening experience. You can wear H-850 for long hours. The materials used for the headphone, make it lightweight and comfortable during long hour audio listening.
It is hardly surprising that it comes with typical Frequency Response: 20Hz to 20 kHz. At this price range, the frequency response should be higher and lower.
Pros
Detachable cable
Built-in powerful 40mm neodymium magnets
Great for bass instruments
Lightweight and comfortable
Cons
The sound frequency response should be more perfect at this price.
6. HIFIMAN Deva Over-Ear Headphone
HIFIMAN Deva Over-Ear Full-Size Open-Back Planar Magnetic...
Bluetooth, USB, Wired- Your Choice ★Bluetooth: A variety of HD Bluetooth protocal-LDAC, aptX-HD,...
Bluemini-Small but Mighty: The DEVA companion Blueooth / USB module; Bluetooth receiver, DAC and Amp...
HIFIMAN's NEO "supernano" Diaphragm (NsD): The new NsD is 80% thinner than previous designs,...
Total Channel Separation: Balanced channel input, TRRS 3.5mm headphone jack and socket; Offering 4...
HIFIMAN Deva is the complete music listening kit that anyone wants to own. With this headphone, you can easily switch to Bluetooth, USB, or wired options. While practicing Guitar, HIFIMAN Deva becomes a trusted companion.
Deva is compatible with various Bluetooth options e.g., aptX-HD, aptX, LDAC, SBC, and AAC fully HD compatible. The wireless option can run up to 7 to 10 hours with a single charge. USB type C also utilized via USB DAC. And the traditional 3.5mm adapter applies to various input applications.
Deva is the flagship headphone of HIFIMAN. The manufacturer has claimed to employ an unspecified unique configuration unite in this headphone that promises excellent sound quality. And the frequency response ranges from 20Hz to 20kHz. Besides, it has a built-in power amp that produces the most dynamic quality sound.
Pros
The most versatile headphone: Bluetooth+Cable+USB.
Bluetooth receiver, USB DAC, and Amp all in one.
Includes NEO "supernano" Diaphragm (NsD).
Offers microphone feature.
Cons
Nothing seems mentionable.
7. KRK KNS 8400 On-Ear Closed-Back
KRK KNS 8400 On-Ear Closed Back Circumaural Studio Monitor...
Detachable in-line volume control
Voiced to remain true to the character of KRK's class leading studio monitors, developed with 25...
The latest reference quality frequency response for closed-back, circum-aural dynamic headphones.
Newly developed headphone acoustical system bringing a new level of headphone performance for the...
KRK is best known for producing excellent headphones – excellent sound quality and design. The KNS 8400 is like a traditional studio sound monitor with natural accuracy that delivers voiced like the real sound.
KNS 8400 comes with ergonomic and lightweight design. The ear-pad and the head-pad feature acoustic cellular foam and leatherette finishing respectively. While practicing the guitar, each string tone is essential that comes with KRK.
Circumaural and closed-back design further improve the superior isolation feature. That means the cups completely enclose the outer part and sealed around the back of your ear. You will hear the right sound because the external noise won't interfere with your listening experience.
Other areas of improvement include 5Hz – 23 kHz frequency response and 40mm neodymium for dynamic and detailed sound.
The cord is designed to more convenient than ever. Also, the 2.5 meters cord is detachable and added with a volume control mechanism. Besides, the 3.5mm gold plated jack makes it compatible with any phone/PC. Thanks to its flat ear cups design, which makes it travel friendly. And a soft carry pouch comes in the box for easy transportation.
Pros
Superior sound isolation.
True voiced like sound.
Circumaural and closed-back design.
Ergonomic and lightweight design.
8. Yamaha HPH-MT5 Monitor Headphones, Black
Yamaha HPH-MT5 Monitor Headphones, Black
Delivering balanced sound with excellent resolution that stays faithful to the source, these...
Comfortable monitoring even during lengthy, extended sessions thanks to Ultra light weight 250 G...
Closed-back, circumaural design for excellent isolation
40 mm custom drivers with ccaw voice coils deliver a broad frequency range from 20 Hz to 20 kHz
Yamaha is very popular for manufacturing various musical instruments, professional audio gears, or anything about music. Yamaha has recently launched its high-grade studio monitor headphone that delivers you a balanced music quality that performs well for guitar practice and studio. HPH-MT5 can be an excellent choice for home or studio music production and personal music listening.
Besides, HPH-MT5 has built-in 40 mm, custom drivers, along with CCAW voice coils. This advanced technology delivers you a wide range of frequency response, ranging from 20Hz to 20 kHz.
For excellent isolation, the ear cups offer closed-back and circumaural design, which means the cups cover the outer part of your ear and seal around the back of your ear. This excellent design prevents external noise from interfering with your listening experience.
The material used across the headband e.g., smooth synthetic leather, which makes it very lightweight. And the low-resistance cushions around the earcups deliver you stress-free wearability.
Pros
Featuring ABS housing, thick, and folding arm.
3 m cable applicable to various applications.
Adjustable headband slider prevents fatigue.
Moveable earcups.
Cons
The sound frequency response is not up to the mark.
9. Sony MDR V55
Sale
If you are looking for a headphone that features total noise isolation and reversible ear cups? Then Sony MDR V55 is for you. The closed design ear cups filter outside noise and deliver real listening experience even in a crowded place. And the ear cups are reversible facilitate easy and flexible music listening.
MDR V55 has built-in a 40mm neodymium driver that produces powerful bass along with crystal clear mid-range sound quality. Besides, this advanced technology allows you to hear deep bass and high sound with a frequency response ranging from 5Hz to 25,000Hz. Moreover, you can listen to music at any level of volume because it includes 105db/mW sensitivity that does not miss the amp-emulation.
Other areas of improvement include a foldable design for secure storage and carrying, 1.2m cord facilitates natural movement and comfortable fit.
In short, with Sony MDR V55, you won't miss a single beat because it's made to focus on fine-tuning and ultimate noise isolation. Besides, the wide headband reduces pressure on your head, and cushioned earcups ensure high comfort following your need. To each guitarist, it is a loved piece.
Pros
Hear every detail of a tune with 1,000mW and 105db/mW sensitivity.
Foldable design for easy storage and carrying.
The eye-catching design adds style while you DJ.
Wide headband and cushioned earcups for comfortable listening.
10. Philips SHP9500 HiFi Precision Stereo Over-Ear Headphones
Sale
Philips Audio SHP9500 HiFi Precision Stereo Over-Ear...
50mm neodymium drivers deliver full spectrum of sound
1.5m cable gives you freedom of movement for indoor use
Comfortable double layered headband cushion, breathable ear cushion for longer wearing comfort
Finishing of connector: gold-plated, acoustic system: open, Magnet type: neodymium
If you are looking for an over-ear-headphone, but concerned about comfortability. Then pick none other than Philips SHP9500 because this headphone meets all your requirements. It is improved by 50mm neodymium-magnet drivers that produce dynamically balanced sound along with high-frequency response ranging from 12Hz to 35,000 Hz.
The headband features a double-layered cushion, which is soft and breathable. For improved breathability, the ear cups have built-in deluxe ear-pads that reduce pressure and eliminates heat during extended wear. Therefore, you will find it comfortable during the long hour of guitar practicing, music listening, and in the studio.
Philips has not compromised the quality of SHP9500 in any way. The headband is composed of cold-rolled steel that put comfortable pressure on your head. Also, the overall headband structure has increased in durability and strength. Besides, the headband offers an adjustable slider that ensures optimal fitting.
Pros
Dynamic and true music listening experience.
Deluxe breathable ear-pads for greater breathability.
A 3.5mm jack with a detachable cord for switching another source.
Performs great with or without amplifiers.
11. Sony MDR7506 Professional Large Diaphragm Headphone
Sony is well known to throw a combination of strength, practicality, advanced technology, and comfort in its professional headphones. Sony's newly launched MDR7506 is a complete music listening kit, which is excellent for daily music and studio recording. With Sony, the passion takes his place.
On top of that, MDR7506 has built-in Neodymium magnets and 40-millimeter drivers. This advanced technology is responsible for producing compelling and detailed sound. And the frequency response ranges from 10 Hz to 20 kHz, but the range could be high than this.
It was further developed by closed-ear design to eliminate external sound. The ear cups completely enclose your ear and ensures outstanding comfort.
Besides, this headphone offers a 9.8ft cord, which is exceptionally long for your smooth movement. It's hardly surprising that the wire is not detachable. Also, MDR7506 features a foldable design, which makes it a travel-friendly music kit. Frankly, it will perform even better when you plug this headphone into guitar amp.
Pros
Closed ear design for effective noise isolation.
Standard gold-plated UnimatchTM 3.5mm adapter.
A 9.8ft cord for easy movement.
The package includes a protective carry pouch.
Cons
The cord lacks the detachable feature.
FAQ
1. What are the uses of Headphones for Guitar Amps?
Using a headphone, you can play electric guitar silently, yet keeping a great tone.

With the added benefit of a good quality headphone, you can carry on guitar practice sessions anywhere, and at any time you want.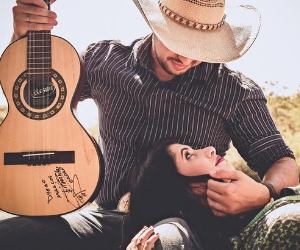 2. How to connect an electric guitar to headphones?
You can easily connect any compatible guitar headphones directly into your guitar Amp following the type of the guitar amp. Most modern guitar Amps come with a jack port for headphone connection. Usually, guitar Amps feature the jack port option at the front panel, at the top, or the back. Some guitar amp offer 3.5mm jack port, other offer 6.3mm port, and some Amps may require you an adapter for the headphone connection.
3. Do you need an amp to play an electric guitar?
It's not necessary to have an amp to play electric guitar. Usually, an amp affects the tonal quality of your guitar. It uplifts the signal strength to make the tone loud and distorts the signal to make the sound better.
4. Can you plug headphones into a bass guitar?
You cannot plug a set of headphones into a bass guitar. To do that, you need an amplifier.
5. Can I connect a Bluetooth headphone to my electric guitar?
You cannot connect a Bluetooth headphone to an electric guitar directly. But you can do it via smartphone and an iRig. However, the result isn't very satisfactory.
Final Thoughts
The above mentioned 11 best headphones for guitar are from reputable audio gear manufacturers. All of these headphones have built-in advanced technology, which can give you the best listening experience that you will ever have while playing guitar. Once you start to use one of these headphones, soon you will have the feeling that you are getting the value of your money. Frankly, price doesn't always matter when it comes to a good quality headphone. So, you decide to pick the best.
Last update on 2023-09-29 at 20:09 / Affiliate links / Images from Amazon Product Advertising API