Golfers who want to enhance their great game should head to the driving range, but for many, this isn't a particularly enjoyable procedure, and it's easy to become distracted from your goals during practice sessions. Many activities are happening that may divert you from honing your technique or effectively performing a particular shot, like the steady thudding sound of range balls being hit, fellow golfers conversing, and a variety of targets to pick from. Using a good set of sports headphones while practicing on the range can help you concentrate better and perhaps improve your golf swing.
Listening to music, audiobooks or podcast helps a lot of golfers focus better, especially while practicing range and putting. You can also choose to isolate yourself from the external noise while playing a round alone.
You can't wear just about any headphones while golfing. Your ears are going to be sweaty from all that hard work, so you will need sweat-resistant earbuds for that. If you are with a group, then you should go for a model that lets you remain aware of your surrounding.
I have tried and tested a variety of earbuds during my golf practice period. Some of them are the best deals, while others are just a waste of money.
You will learn which earphones are best for you and your budget if you read this page if you no longer want to squander money on headphones.
01. Sennheiser Momentum True Wireless Bluetooth Earbuds
Sennheiser MOMENTUM True Wireless Bluetooth Earbuds with...
Note : If the size of the earbud tips does not match the size of your ear canals or the headset is...
Exceptional clarity experience sound that's like 'being there' thanks to sennheiser category...
Fingertip control control your music, calls and voice assistant simply through intuitive touchpad...
Stay aware transparent hearing keeps you aware of your surroundings, allowing you to easily listen...
These IPX4-rated true wireless earbuds are capable of handling a lot of sweat and splash. The overall design has a premium feel to it and the earbuds snugly fit, irrespective of the ear canal size. Be assured that it won't fall off mid-swing or while running on the treadmill.
The buds are a little larger than what we'd expect from an upscale sports-ready earbud like this. But that's a minor issue we can easily get past.
The unit keeps you aware of your surrounding. You can talk to people around you while practicing range without having to take off the earbuds. It also connects to your phone and automatically pairs up with your phone's Bluetooth.
MOMENTUM To provide uninterrupted enjoyment, True Wireless has been specifically created. Excellent audio is provided on iOS and Android smartphones with a hassle-free Bluetooth 5.0 connection. Also, tried-and-true technology guarantees lag-free music and flawless synchronization between the left and right earbuds (NFMI).
However, the downside to this feature is that the buds won't turn off when you put them back in the case unless you turn your phone's Bluetooth off. Forgetting to turn the BT off can quickly drain the battery of the charging case.
Coming to the music, the sound is packed with a good amount of natural bass. The audio clarity and imaging are phenomenal due to its wide soundstage. It lets you hear the sound of every instrument very clearly.
Top features:
| | |
| --- | --- |
| Key points: | |
| Low Latencies | Never skip a beat or an opportunity. |
| Vocal assistance | control using your fingertips |
| Dispatch Case | The audio keeps playing. |
| For your particular audio experience | App for smart controls. |
02. Powerbeats Pro Totally Wireless Earphones
Sale
Beats Powerbeats Pro Wireless Earbuds - Apple H1 Headphone...
Totally wireless high-performance earphones
Up to 9 hours of listening time (more than 24 hours with charging case)
Adjustable, secure-fit earhooks for lightweight comfort and stability
Reinforced design for sweat & water resistance during tough workouts
These truly wireless earbuds are lightweight and slim. It comes with four sizes of silicone tips and ear hooks to keep the buds in place when you are playing a full round. The earphones can efficiently deal with the usual amount of sweat most athletes, bikers, cyclists, golfers, and gym-goers might be subject to.
You can continue listening to music for up to 9 hours with each earbud. You'll receive more than 24 hours of combined playback with the charging case.
With Powerbeats Pro, you can enjoy immersive music with spatial audio and take your surround sound experience with you everywhere you go. Also, thanks to Class 1 Bluetooth® technology, these wireless earbuds have a longer range and fewer dropouts, keeping you connected even as you move around.
Right out of the box, Powerbeats Pro connects wirelessly over Bluetooth® to Android smartphones.
You can access features that place you at the heart of your music like never before with the Beats app for Android.
You may watch the same song, podcast, or movie with a buddy by pairing two sets of Beats headphones or AirPods to one iPhone using Audio Sharing.
It provides a phenomenal battery life of up to 9 hours while the charging dock is packed with 24 hours of battery juice. If you are in a hurry, use the 5-minute Fast Fuel charging to gain 1.5 hours of playback time.
These headphones pump out a lot of punchy bass with crisp highs. You can also use it for listening to audiobooks and podcasts due to its warm sound signature.
Top Features:
| | |
| --- | --- |
| Key points | |
| Sound | You are immersed in music by spatial audio1 |
| Design | Earhooks with a secure fit that may be adjusted for comfort and stability. |
| Connectivity | Use Audio Sharing on Headphones and another pair of Beats headphones or Earbuds to wirelessly share auditory content like songs, podcasts, or movies. |
| Power | More than 24 hours of listening time with Powerbeats Pro and charging case |
03. RHA Trueconnect
RHA Trueconnect - Carbon Black: True Wireless Earbuds with...
5hrs playback from a single charge + 20hr charging case with fast charge (15mins = 2. 5hrs).
Sweat proof and water resistant to IPX5 certification for durable performance. Driver - 6mm dynamic
Bluetooth 5 and stem design for exceptional connectivity, digital assistant control & Call quality.
Secure fit with comply foam & silicone ear tips designed specifically for True wireless earbuds.
It is next to impossible to find an audiophile-grade true wireless headphone without shelling out a few hundred. But we would like to believe that we have done the impossible. While RHA Trueconnect is no Sennheiser, it still sounds phenomenal with tight bass along with clear mids, and highs.
Make sure the outer world is kept out so you can concentrate. Through the use of a tuned driver and TrueConnect's passive noise-isolating fit, RHA-quality sound is produced with increased power.
With the (much lighter) tap of an earphone, capacitive touch controls make a world of connected functions possible. TrueConnect 2 works with Alexa, Siri, and Google Assistant.
TrueConnect 2 functions more intelligently. Bluetooth 5 has enhanced chipsets and software. For remarkable clarity in-call audio, new dual microphone systems isolate your voice from background noise.
These earbuds come with soft foam tips that effectively isolate the music from the background noise as long as the tips seal your ear canals properly.
The TrueConnect functions well during monsoon season and endurance running. Rain, dust, and perspiration protection at IP55 rating for dependable durability.
It should snugly fit most ears and can be worn for 2-3 hours without any issues. The 5 hours of battery life isn't huge but you have to deal with shortcomings like this when you're on a shoestring budget.
Top features:
| | |
| --- | --- |
| Key points | |
| Audio | Physical Separation from Noise |
| connectivity | Royal connection with Bluetooth 5.0 |
| Battery | Fast charging a lithium-ion battery for three hours in just 15 minutes takes 68 minutes. |
| General | Water resistance and lightweight. |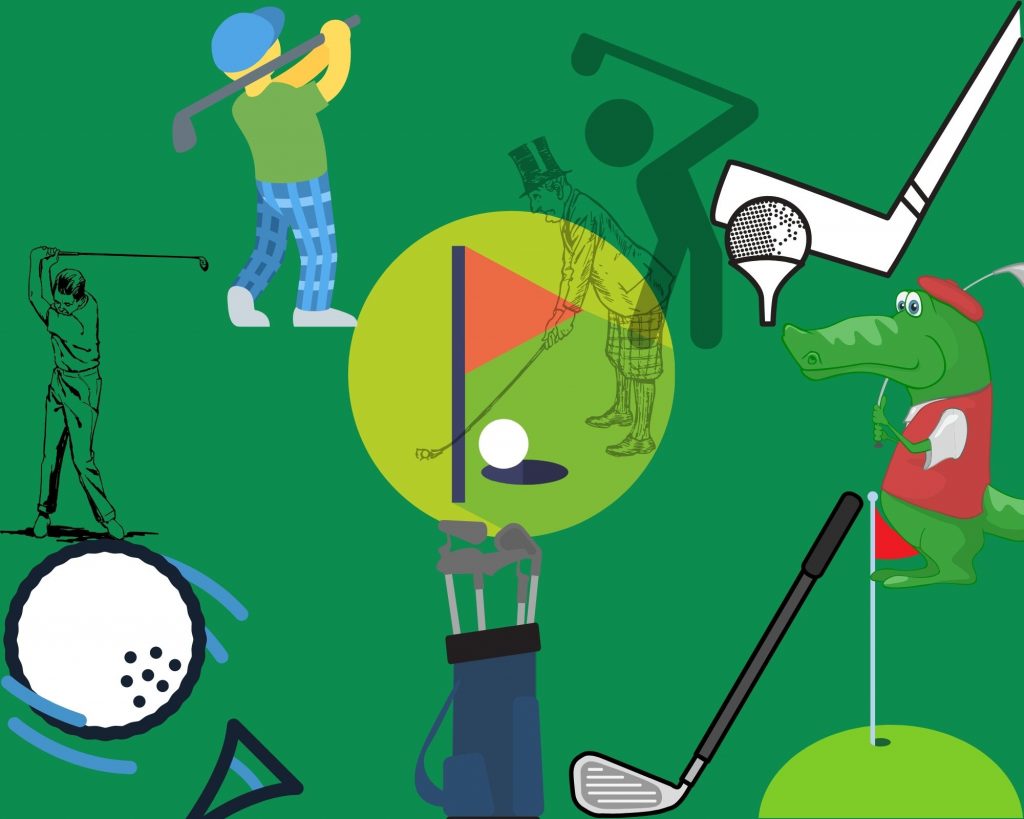 The Bottom Line
When playing golf or moving from a putting green to the next tee, it's generally acceptable to wear headphones or earbuds.
You can be violating the 14-3 golfing regulations regarding the use of artificial equipment if you take much longer or when making a stroke.
If you use golf earbuds or headphones, make sure to understand the guarantee and retain your receipts in case it ends up being invalid.
Last update on 2023-06-01 at 04:13 / Affiliate links / Images from Amazon Product Advertising API