A great pair of headphones is a must-have if you own a Playstation VR. High-fidelity headphones will allow you to enjoy the enhanced 3D audio to the fullest. VR is all about full immersion.
Therefore, the headphone you choose should effectively isolate you from the ambient noise, making you feel like you are actually inside the game.
So what are the best headphones for PSVR with great audio output, comfort, and noise cancelation? Too many products, too much information to process and too little time in hand?
Fret not. We have found 3 perfect headphones for PSVR for you so that you don't have to. Continue reading to find out which products have made the cut.
01. PlayStation Platinum Wireless Headset
The Platinum version of this headphone uses the much-coveted 7.1 virtual surround sound powered by 3D technology. Its audio hardware bits are tailor-made to give you a true VR experience on your PSVR kit.
The 3D audio makes you completely lose yourself in the world of gaming. The stellar audio detailing combined with a deep soundstage allows you to hear where your enemies are coming from.
These headphones are fairly lightweight. The underside of the headband is lined with soft padding to facilitate optimal comfort. The buttons are conveniently located and provide tactile feedback. It also comes with a built-in mic that enhances your voice and produces a natural sound.
The headset also has decent noise-canceling ability to help your gaming buddies clearly hear your voice. Last but definitely not the least, it comes with custom game modes to help you get the most out of Sony's 3D technology.
02. Bionik Mantis BNK-9007
Bionik's new Mantis headphone for PSVR provides a comfortable fit for hardcore gamers who spend hours smashing their virtual enemies. The detachable, clip-on design is unique in the truest sense of the term. The headset comes in two separate pieces, therefore, no need to worry about constant adjustments for a snug fit.
Like all the best headphones for PSVR, Mantis is also designed to enhance the 3D sound effect built into Playstation VR. The audio has tight and clean bass but the mids and highs are lacking.
It does not actively tune out external noise. However, due to the tight-fitting, you can drown out a good amount of background noise while maintaining awareness of the surroundings.
Retailers
03. Sennheiser Game ONE Gaming Headset
This plush headphone from Sennheiser is a dream VR-ready headset for dedicated gamers. It uses original transducer technology to deliver crisp audio with tight bass along with clean highs and mids. It also has a rich and deep soundstage coupled with decent ambient noise-canceling abilities to improve the VR experience.
It includes an upscale built-in mic that lets you communicate with your fellow-gamers with distortion-free, crystal-clear voice quality. The microphone filters a good amount of background voice to prevent crackling noise from ruining your gaming experience.
The over-ear headphones use premium velvet earpads to keep your ears free from sweat. The underside of the headphone is also generously padded to keep you comfy during long periods of use. The seemingly bulky-looking headphone is so lightweight that you might not even feel its presence.
Also Read: best headphones for Kindle Fire
In Conclusion
We have finally reached the end of this and we sincerely hope that, by now, you have made up your mind.
Before making a purchase, remember that the best headphones for PSVR have to incorporate a few specific hardware components that upgrade the built-in 3D sound tech of PSVR.
Good sound cancelation is an added bonus that'll help you relish the true enigma of 7.1 surround sound.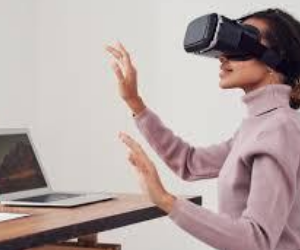 Last update on 2023-12-10 at 06:12 / Affiliate links / Images from Amazon Product Advertising API