Looking for a new pair of headphones for your Kindle Fire? Then you have landed on the right page. Note that not all Kindle Fire doesn't come with a traditional headphone jack. Therefore, we have included more wired and wireless headphones in this section.
These tablets can be used for playing both audiobooks and music. The 13 best headphones for Kindle Fire we have chosen for you not only have great audio quality and but are also comfortable to wear for hours. We have also made sure the headphones minimize the loss of quality during transmission, thus delivering CD-like sound.
How to Choose the Best Pair of Headphones for Kindle Fire?
It's not like you can't use your regular pair of headphones for Kindle Fire. You most certainly can but it might fail to deliver an immersive listening experience with rich vocals and impeccable noise isolation.
To get the most out of your Kindle Fire, you need to invest in headphones that perfectly complement the audio output of Fire tablet.
But how do you really know which model is the best? What are the key features to consider? How to be sure about the quality? Confused much?
Well, truth be told, choosing the ideal headphone doesn't have to be a cumbersome process. You just need to know which features are an absolute must for your individual needs. Let me elaborate more:
Over-ear Vs On-ear vs In-ear
This is the most confusing part of choosing a headphone.
Over-ear headphones have large ear muffs encircling your ears. These headphones have a more natural, soothing and expansive sound compared to the other two types. These are extremely comfortable to wear at home for hours as they don't put much pressure on your ears. However, if easy portability is a concern for you, over-ears won't be the best option.
On-ear headphones sit right on top of your ears, directing the sound straight to your ear canals. Therefore, the stereo sound effect might not be up-to-the-mark for audiophiles.
However, they still use large drivers which can produce deep bass and beautifully-balanced tones, depending on the model you are buying. Also, these are much more portable than bulky over-ear headphones.
In-ear headphones sit right into your ear canals and are mainly optimized for on-the-go users, athletes and gym-goers. As long as you ensure the right fit, earphones stay put no matter how fast you are moving. So if you are prioritizing portability of over audio quality, in-ears are your safest bet.
However, since they maneuver the smallest drivers out of all 3 types of headphones, producing audiophile-grade sound is not their forte. Having said that, there are definitely a lot of exceptions in the market. As long as money isn't an issue, you can easily find earphones that sound natural, lively and enigmatic.
Comfort Matters
Binge-watching movies or web series or listening to audiobooks for hours end can make your ears hurt. If you are not comfortable wearing your headphones for an extended period, your money is flushed down the drain.
If you are picking an over-ear or on-ear headset, make sure that the ear cups are generously padded with a soft, cushiony material. The size of the headband should also be easily adjustable. And for earbuds, look for a model that comes with multiple foam tips to help you customize the fitting.
Noise-cancelation
As long as your ears are nicely sealed, you will get a decent amount of noise isolation from your headphones. These headphones would dim the background noise to some degree. However, if you spend most of your days in crowded, noisy environments, look for a pair that utilizes ANC or active noise cancelation.
ANC headphones not only block a good amount of high-frequency noises but also cancel out certain low-frequency ambient sound waves by producing a second waveform.
Sound Output
Having said all, at the end of the say, you would want to buy headphones that sound amazing. The best headphones for Kindle Fire HD 7, 8 and 10 featured on this list have full and detailed audio with wonderfully well-balanced tones. The speaker should offer clear mids and crisp highs.
For audio-books, movies and TV series, a tight and punchy bass would be ideal. But if you are a bass-head who spends a lot of time listening to Pop and EDM, go for a headphone that offers lots of deep and boomy bass.
List Of Best Headphones for Kindle Fire
01. Dolby Dimension Wireless Bluetooth Headphones Over Ear
No products found.
These over-ear headphones equipped with Dolby LifeMix and Virtualization create surround sound effect. Another advanced feature in this model is head-tracking. It gives you an immersive movie-watching experience by making the sound respond to your head movement.
This is an ideal headphone for movie buffs who are planning to binge-watch their favorite movies and shows with movie theatre-like grand audio effect.
It lets you easily switch between one Bluetooth-enabled device to another with just a touch of a button. The BT headphone utilizes APTx Low Latency technology to prevent audio lagging. It sports a bold and classy black body with easy-to-use touch controls located on the right ear cup.
The noise cancelation feature deserves a special mention too. It effectively blocks the external noise, and prevents stuttering/crackling noise from ruining your phone calls. We also loved the 15 hours of playback time with 20-minutes quick charge feature. The model comes with a charging dock to make your life a little easier.
02. Sony – H900N
This stylish and sleek headphone from Sony aims to deliver signature Sony high-resolution sound. There isn't much bass, though. However, the sound has excellent clarity and there's almost no distortion in the high-end.
This model uses advanced DSEE HX technology for loss-less Bluetooth transmission. It also contributes to the high-resolution audio, meaning the sound you hear is close to the quality at which it was recorded in the studio.
Noise cancelation is undoubtedly one of the strongest features of this headphone. It mutes the low-frequency noises around you. If you are in a very crowded place, you will still be able to hear what's going on around you. However, in places like office, coffee shops or home environment, it will help you focus on your activities better by dimming the background noise.
H900N has a sturdy design with big soundproof, well-padded earcups. The touch-sensor controls on the right earcup. We would say that the design is more geared towards individuals with large head size.
Retailers
03. Sony XB550AP Extra Bass On-Ear Headphone
As the name clearly suggests, this XB line headphone from Sony is designed for audiophiles who identify as unabashed bassheads. Does it live up to the hype, though? Well, let's see:
We were treated with a strong and kicky bass when we played the tracks of Billie Ellish, David Guetta, Skrillex and The Chainsmokers on our Kindle Fire. The sub-bass doesn't blow your mind. Instead, it gently courses through your veins. While the highs are warm and crisp, the lows and mids lack finesse, leaving you wanting for more.
Despite above-average sound output, this mid-budget headphone delivers a satisfying listening experience, thanks to its new and improved design. The latest models of XB550AP sits close to the head, therefore, applies a firm clamping pressure on your head.
The ear cups have ample soft padding to keep you comfortable for long hours. Firm clamping pressure, snug-fitting and large, well-padded ear muffs together block a good amount of ambient noise. Despite not having active noise cancelation feature, its ability to isolate the music from the external noise is surprisingly good.
04. GRADO GW100 Wireless Bluetooth Headphones
Being an open-back headphone, it mimics the outstanding experience of being in a live concert. It produces a wide soundstage, allowing for an immersive listening experience if you are relaxing in your porch or in a quaint little cafe, far away from the hustle and bustle.
It pumps out well-defined, clean bass with clear mids and smooth highs. It won't be suitable for daily commute or in a library as it bleeds a lot of sound and doesn't offer much sound isolation.
It uses aptX technology for transmission, resulting in minimal quality loss during Bluetooth transfer. It is also incredibly lightweight, so wearing it for hours won't be an issue.
The design is robust enough to survive a few drops on a hard floor. It offers 12-15 hours of battery depending on your settings. The best part is that it can be used in wired mode too when your battery drains out.
05. Microsoft Surface Headphones
These kindle fire HD Bluetooth headphones are one of the most lightweight and comfortable pairs of headphones I have come across during my research.
This one is one of the best noise-canceling headphones for kindle fire for the following reasons:
It uses an advanced adjustable active noise cancelation tech to help you fine-tune your audio experience according to the environment you are in.
This means you are in full control of how much external noise you want to hear. Increase the silence in the noisiest places like airports or subway to get completely zoned out. The controls are conveniently located on the ear cups and are very easy to adjust. It comes with 15 hours of battery, quick charge function and can be used in wired mode too (with ANC off).
The sound lacks mids and highs, although you can make some fine adjustments on EQ for a better experience.
06. Puro Sound Labs BT2200 Kids Wireless Headphones
If you are looking for a great pair of Kindle-friendly headphones for your kids, your search might just end here. These headphones limit the volume to 85 dB which is considered safe for the extremely sensitive ear canals of babies. The adjustable headband coupled with well-padded ear cups keeps clamping force to a minimum, resulting in optimal comfort for your kid.
The robust body of the headphone can withstand heavy abuse, making it even more suitable for children. Once charged fully, your junior can enjoy listening to his favorite stories or watching movies on his tablet for an entire day or two. And as if these weren't enough, the headphones work without Bluetooth as well.
07. iJoy Matte Finish Premium Rechargeable Wireless Headphones
These contemporary looking Bluetooth headphones are one of the most affordable options on my list. Don't let its modest price fool you into underestimating its performance.
The built-in speakers produce loud and clear tones peppered with tons of bass. You can also expect a decent amount of background noise isolation when you are in the office or a cafe, wanting to be lost in the world of music or an interesting podcast.
The earmuffs are lined with memory protein, which is why they don't exert an annoying amount of pressure on your ears. If you absolutely despise the idea of wearing huge, heavyweight headphones that make ears sore, this model definitely deserves your attention. On the downside, the battery doesn't last for more than 6-7 hours, which is kind of understandable, considering the price.
08. Mpow Flame Bluetooth Headphones Sport IPX7 Waterproof Wireless Sport Earbuds
No products found.
These IPX7 rated headphones are another great option for people who don't want to splurge on a pair of headphones for now. These waterproof headphones are suitable for wearing in hot and humid weather when you are sweating bullets.
Although the overall sound output isn't audiophile-grade, it does pack a lot of punchy bass and delivers crisp vocals. I also loved how the controls are conveniently located on the earbuds instead of the cord.
You can enhance the sound using different EQ modes for an even better experience. It also blocks a decent amount of ambient noise when you crank up the volume. Other than that, the pairing is fast and simple and the Bluetooth connection remains uninterrupted within the range of 20-30ft.
Also Read: Mpow Series Headphones Review
09. Bluedio T2s Bluetooth Headphones On Ear with Mic
Another terrific choice that can put an end to your hunt for the best headphones for Kindle Fire HD 7, HD 8 and HD 10. The nicely padded ear cups will snugly fit medium to large ears. You can effortlessly keep it on for close to 6-8 hours without feeling fatigued.
The audio has a lot of bass combined with clear treble. The bass, however, lacks definition which is a common drawback in most headphones in this price range. However, you can customize the audio to your liking to a certain extent using EQ settings. It also ensures a lossless Bluetooth connection for up to 30 ft. and has a stellar battery life of around 40 hours.
10. ThinkWrite Premium Headphone
This list would lose its credibility without the mention of this headphone model. You don't have to spend an arm and a leg to enjoy the amazingly warm sound signature of its powerful speakers.
It squeezes out crisp, detailed and nicely balanced tones, best suited for listening to audiobooks and slow, peaceful music on your Kindle Fire. The headphones are very lightweight, keeping ear and head fatigue to a minimum after prolonged use.
11. Mimoday Kids Headphones for Kindle Fire Kids Edition
After Puro Sound Labs, this cute and vibrant pair of headphones from Mimoday is the next best kid-friendly model in this segment. Kids often tend to set the volume too high which increases the risk of hearing damage at a young age. These headphones don't allow the sound to go beyond 85 dB, making it safe for long hours of use for your kids.
Its warm and rich tones are perfect for streaming Tv shows, movies as well as audiobooks. It is a wired headphone and is specially designed to be used with Fire HD 8 Kids Edition. Its soft and cushiony ear cups would keep the delicate ears of young children fatigue-free and sweat-free for long hours.
12. Kindle Fire Earbuds
These headphones are counted among the best headphones for Kindle Fire HD for a number of valid reasons. These are your typical, basic wired earphones that deliver good quality stereo sound combined with a noticeable amount of passive noise cancelation.
The earbuds don't squeeze your ear canals tooo tight, rendering them suitable for people with small ears. The sound on this is bold, balanced and detailed. Don't expect high and well-defined bass from this. The audio experience will not blow your mind, but will definitely help you space out in the office or public transport.
13. CoolaDigital Earphone for Kindle eReaders
These nifty earphones stay firmly put in your ears when you are lied down on the couch streaming your favorite series on your Fire tablet. The earbuds are extremely lightweight and therefore, can be worn for 8-9 hours straight without feeling uncomfortable.
It pumps out loud and clear sound with crisp highs. On the downside though, the bass is negligible. If you just want a pair of lightweight, durable and affordable headphones that can be easily carried in the pocket, this one would serve the purpose.
Also Read: Best Headphones for EDM
Frequently Asked Questions (FAQs) about Kindle Fire Headphones
Does Kindle Fire work with Bluetooth headphones?
Ans. Yes, you can connect your Kindle Fire tablet with Bluetooth headphones. All Kindle Fire models come with built-in Bluetooth and the pairing process is super easy.
Can you use headphones with a Kindle?
Ans. Yes, you can use headphones with Kindle for streaming movies, music webs series and listening to audiobooks and podcasts. All Kindle Fire tablets allow you to connect to Bluetooth-enabled headphones. Kindle Fire HD 7 and HD 8 feature 3.5 mm headphone jacks as well.
Do Kindles have a headphone jack?
Ans. Kindle Fire HD models such as Fire HD 7, Fire HD 8 and Fire HD 10 have a 3.5 mm headphone jack. Note that microphone-enabled headsets are not supported by Kindle Fire.
Do wireless headphones work with Kindle Fire?
Ans. You can easily pair your Kindle Fire with wireless Bluetooth headphones. However, please remember that Microphone-enabled headsets and wireless Bluetooth microphones are not supported by Fire tablets.
How do I connect my wireless headphones to my Kindle Fire?
Ans. To pair your wireless Bluetooth headphone with your Amazon Kindle Fire, do the following steps:
Turn on your Bluetooth headphone and set it to pairing mode.
Turn on your Fire tablet, swipe down the screen and tap on the Wireless icon.
Then tap Bluetooth>On> Pair a Bluetooth Device
It will begin searching for your Bluetooth accessory. Find your Bluetooth headphone device under the "Available Devices" section.
Pair the two devices.
How do I connect my iPhone to my Kindle Fire?
Ans. You can tether your iPhone to Kindle Fire using Bluetooth connectivity. Turn on the Bluetooth on both devices, pair up and start exchanging files.
You can also connect the Kindle Fire HD to your iPhone using USB by following the steps below: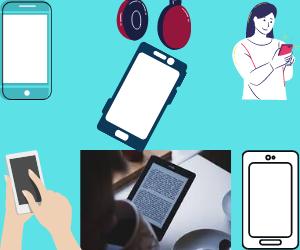 Get yourself a USB 3 Camera Adapter Kit and connect it to your iPhone
Now plug your Kindle Fire to the adapter kit. The Kindle will go into the USB drive mode and show up on your phone.
Now you will be able to transfer files from your iPhone to your Kindle Fire tablet.
Can I play my Kindle through my car speakers?
Ans. If your car has a Bluetooth speaker system, you can seamlessly pair it to your Kindle Fire tablet. Make sure the Bluetooth of both devices are turned on
If you own Kindle Fire HD 7, HD 8 OR HD 10 which has a headphone jack, you can also use an AUX cable to connect it to your car stereo.
See Also: Best Headphones for Mowing The Lawn
Summing up
We hope your hunt for the best headphones for Kindle Fire ends here. The models featured in our list are versatile and suitable for travelers, daily commuters as well as fastidious audiophiles. From listening to various genres of music to playing audiobooks, these headphones are tailor-made for all kinds of playback.
Last update on 2023-12-09 at 20:21 / Affiliate links / Images from Amazon Product Advertising API