Are you looking for a pair of lightweight and steady headphones you can jam while skating? Well, the good news is, you have landed on the right page. The key consideration while looking for the best headphones for skateboarding is stability and comfort. You want a pair of headphones that are not clunky, won't fall out easily and won't fatigue your ears.
In this segment, I have rounded up 3 of the best headphones for skating for every budget group. So here go:
01. Skullcandy XTplyo In-Ear Sport Earbuds with Mic
If you don't wish to stretch your wallet too much for a piece of headphones, then this beauty by Skullcandy is worth a look. Although it's a wired headphone, it uses a special TripleLock technology to prevent the earbuds from falling out while you are skating.
You don't have to worry about the cold weather or sweat ruining your headphones either. The XTplyo are sonically welded shut, keeping the earbuds shielded against sweat and harsh weather elements.
It is important to make sure that you are aware of your surroundings while skateboarding or engaging in any adventure sport for that matter. These in-ear headphones use ambient ear gel to help you hear traffic noise, people's chatting without compromising on your music listening experience.
Another significant security feature is the reflective cable clip. It glows and keeps you visible when you are skating in low-light conditions.
02. Philips SHQ4300WS/27 ActionFit Earbuds
Neckband style earbuds are a great option when you don't want to deal with tangled wires. The neckband is designed to provide optimal comfort and flexibility to highly active individuals. It also adjusts to the head and therefore, remains steady during activities like skating or mountain biking. It ensures that the earbuds stay in your ears while you land.
The earbuds can handle a decent amount of sweat and moisture. It is an ideal pair for those who loved to emerge themselves in the world of music while skating or working out. The earbuds are capable of canceling out a good amount of ambient noise.
The sound quality is mediocre and there's isn't a significant amount of bass. But nobody really expects great sound quality from low-budget sports earphones like this. It stays secure to your ears when you land while skating, deals with lots of sweat, and sounds good enough to keep you pumped.
03. Philips SHQ1200WT/28 ActionFit Sports In-Ear Headphones
Sale
This is one of those specialized, sports-ready wired headphones that debunks the myth about wired headphones. Wired ones can be just as convenient as expensive true wireless headphones while working out. You just have to find a model like this.
Its earbuds let you roll on your skateboard without worrying about excessive sweating, dirt or rain damaging the buds. The buds have anti-slip rubber cups on them. It keeps the earphones glued to your ears, preventing them from falling out while running, biking, working out or skateboarding. It comes with 3 different ear cups to help you get the right fit. The cable also sports a reflective stopper to keep you visible in low-light conditions for extra security. 
Compared to most budget sports-ready headphones, Philips SHQ1200WT/28 produce quality sound. These are noise-canceling earbuds, therefore, will keep you aware of the surroundings. The only thing it lacks is a mic. Otherwise, it a great pair of affordable, non-clunky headphones for skateboarding.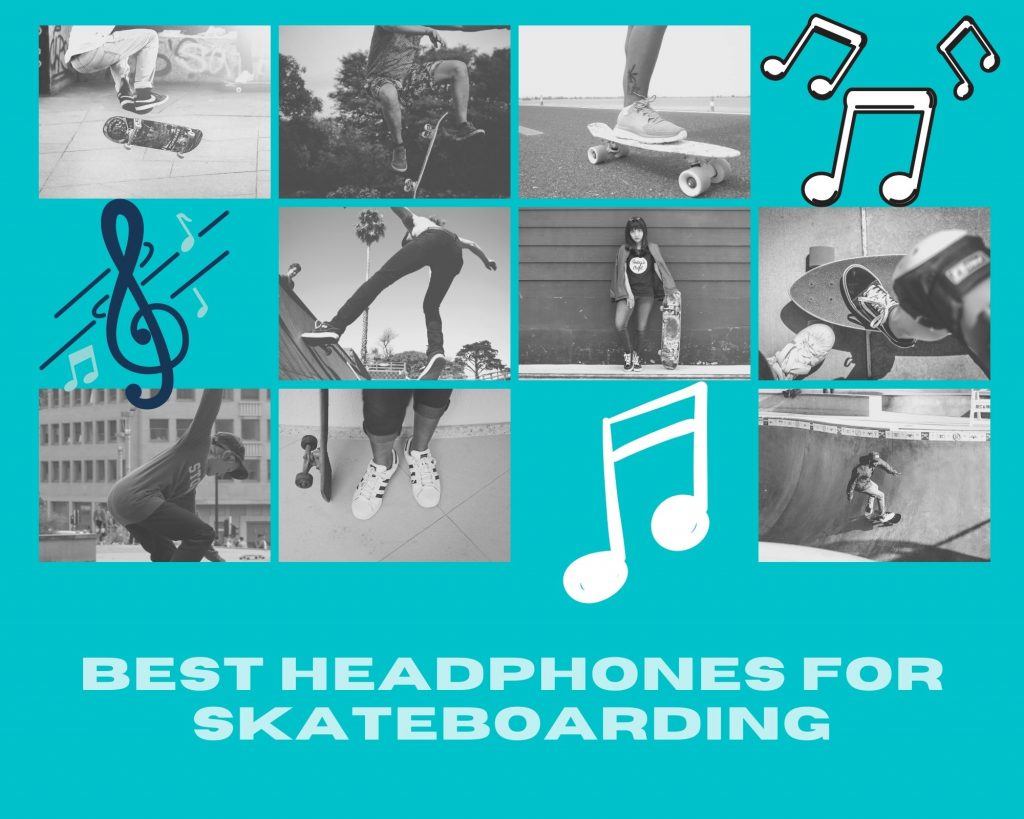 Also Read: Best Headphones for Golf
In Conclusion
Choosing the best headphones for skateboarding isn't really that difficult as long as you know your requirements well. Some want immersive music listening experience while some prioritize the stability of the headphones and sweat-resistance. I have curated the product list keeping this very fact in mind. So go ahead, read the reviews carefully and figure out which headphone fits the bill.
Last update on 2023-05-31 at 17:49 / Affiliate links / Images from Amazon Product Advertising API