Wireless headphone technology has gone through a revolution in the past few years. Gone are the days when all you could expect from Bluetooth headphones was, well, just the "wirelessness". With the advent of better technology, wireless headphones designs are becoming more and more fitness-oriented. In this review we have covered the best headphones for peloton bike, that's new and all-time top-rated headphone list.
If you are looking for recommendations, I have 10 wireless headphones on my list that you can use on peloton bike, while cycling or running in public places and also for adventure sports like mountain biking.
At a glance, you may see the ten best headphones for peloton.
Below I've provided brief reviews of the 10 Best headphones for peloton cycling, biking, jogging and almost every other athletic activities you like to indulge in.
Best Headphones For Peloton Bike/Cycling/Motorcycles: Wireless/Bluetooth
Reviews Of The Best Headphones For Cycling Wind Noise
01. AfterShokz Trekz Air Bone Conduction
Unlike regular headphones, Trekz bone-conduction headphone buds don't block your ear. Instead, they send sound vibration through your cheekbones.
Due to this unique open-ear design, you will be fully aware of the surrounding. This is a great safety feature when you're running, biking or cycling on a crowded road. The headphones are lightweight and provide a secure fit, no matter how aggressive your workout regime is.
As far as the audio quality is concerned, it is far better than most cycling phones I've tried in my whole life. Although the bass lacks depth, cranking up the volume to the max will help you stay focused and energized.
Although the battery life of 6 hours is not worth going nuts over, if you will strictly use them while running a marathon or in the gym, this shouldn't be any problem.
P.S: Meanwhile, if you are looking for a quality heart rate monitor for peloton to accurately monitor your progress without breaking a bank, here a few options to consider:
02. Bose SoundSport Wireless
If you want in-ear earphones for running that don't fall out, can handle a little amount of sweat or sweat and have decent bass, this is it.
Although the earphones are slightly on the heavier side, you will find them to be incredibly comfortable in your ears, thanks to the StayHear+ ear tips. It doesn't tightly block your ear canals, thus allowing some amount of external noise through the earbuds.
The situation awareness combined with mild passive noise cancellation makes this one of the best headphones peloton biking, mountain biking, jogging, running and cycling. There are wing tips too to keep the buds stick to the place during rigorous workout sessions.
The bass has the right amount of kick to help you get through that last rep in the gym or take that one last round of run.
03. Sennheiser CX 6.00 BT Wireless In-Ear
Rarely do I come across sports or running headphones that deliver an immersive audio experience. Sennheiser headphones have kept both casual listeners and audiophiles groovin' for decades. Ultra-lightweight, great sounding earbuds are considered one of the best accessories for peloton bike.
The seamless connectivity with two devices simultaneously is one of the key strengths of these earphones. Despite being the cheapest in-ear monitor by Sennheiser so far, it uses aptX Low Latency codec to ensure lag-free sync between audio and video.
The sound profile of CX 6.00 is bass-dominated, which is exactly what I want in sports headphones. The treble is a bit too pronounced for my taste. However, the best part is I can easily tweak the frequencies to my liking using the EQ app.
04. Jaybird RUN True Wireless: Cordless
Now, this is the kind of headphone that can survive through super tough athletic challenges with you. These true wireless headphones are completely waterproof and sweat-proof, so it's totally fine if you want to use them while swimming. The fit is flawless irrespective of the size of your ear canal.
And what's even better, the ear tips don't squeeze your canals too tight. Therefore, you won't feel fatigued even after running with these buds on for hours. This will also work great as headphones for bike helmet. You just need to find the right pair of tips for your ear canal size. That's it.
Help: Top Best Bike/Cycling Helmet
You can run for 3-4 miles easily with them on without losing your focus. The default sound quality is flat and basically has no life. However, as soon as you tweak the frequencies on the Jaybird EQ app, it is a whole new picture. The EQ app gives the audio a new of life, brings forth a perfectly balanced bass, clear mids, and sparkly highs for an immersive audio experience.
Note: Now that you are ready to fully commit to your workout regime, find yourself a nifty training mask to include in your workout kit. We have narrowed down the options to 3 products to save you some time. Check them out below:
05. MYSANDY Bone Conduction Headphones
Great fit, a well-built headband that doesn't cause fatigue after prolonged use, water-resistant and sweat-proof design- These bone conduction headphone has a lot of things going for it.
Although due to the open-ear design, it doesn't block external noise itself, you can use the earplugs included in the package to get a decent amount of noise isolation. Even people who wear hearing aid can use these headphones while running, cycling or jogging in crowded places. It ensures your safety by channelizing ambient noise through the earbuds while playing music from the audio source simultaneously.
Also Read: Headphones For Skateboarding

06. Samsung Galaxy Buds
If you are a loyal fan of Samsung and want a solid pair of earphones for running that don't fall out, look no further. The thing is, most true wireless earphones suffer from the lack of sound quality. The reason being the quality of drivers used in it. Thankfully, the Samsung Galaxy Buds ensures thick bass punch, fuller sound and amazing tonal clarity with its AKG optimized drivers.
You shouldn't have any issues with the fitting as long as you find the right pair of tips for your ear canals. For better sound experience, make sure that the tips are squeezed deep into your ears. It also includes wingtips to lock the buds securely in place when you are cycling, running or working out. The earphones can handle quite a bit of splash and sweat as well. However, you can't swim wearing them.
Another feature that makes these earbuds stand out is the ambient noise mode. It gives you full control over how much external noise you want to hear. A nifty addition for joggers, cyclists, and bikers who have security concerns about wearing earphones in crowded streets.
07. Bonein Bone Conduction BN-702 Bluetooth
No products found.
If you are worried that bone conduction, open-ear headphones leak too much sound, you should check this one out. Its sound leakage-proof design is truly one-of-a-kind for this particular type of headphone.
It stays firmly glued to your cheekbones without causing the slightest discomfort. I would highly recommend it to bikers, cyclists, and joggers. Bluetooth earbuds that allow ambient noise such as Bonein are much safer than NC headphones for cyclists, bikers, and runners.
I would also say that it is one of the best headphones for peloton biking, indoor cycling as well as intense workout in the gym. The ear cushions are comfy, sweatproof and most importantly, highly breathable. Be assured that your ears won't heat up and sweat when you are trying to complete your reps.
Note: A good pair of workout shoes is just as important as a cool pair of headphones. So here a few peloton bike shoes recommendations for you, if you are looking for one:
08. Jabra 100-98600000-02 Elite Sport
How often do you come across a true wireless earphone that monitors and displays your workout data with near accuracy? Well, these newest pair of in-ear phones from Jabra features a heart rate monitor, pace calculator, in-ear audio coaching and a lot more to jazz up your daily workout routine. It's nice to listen to audio reports of your workout stats on-the-move.
It also lets you remain aware of your surroundings while listening to music, should you choose to do so. The connection is lightning quick, sound is decent for the price and it can also withstand a good amount of sweat.
09. Plantronics BackBeat Fit Bluetooth
Stability and fitting of these sleek earbuds during rigorous workout is brilliant. Designed especially for workout, running, biking and cycling, these earphones stay intact after withstanding all the sweat and water. The controls on the headphones are streamlined and easy to use.
You can easily receive calls, pause/resume track, change the volume with a few taps on the in-ear control buttons. The neckband adjusts easily without much tweaking. I am also impressed by the idea of improving my existing headphones from time-to-time with the latest firmware updates on the free app.
If that wasn't enough, it also provides nearly 8 hours of listening time. That's huge for gym and sports-ready Bluetooth headphones. However, if you are expecting great sound from these, I'm afraid that you will be disappointed. While the audio isn't completely trash, it doesn't justify the price tag either.
10. AUKEY Wireless Headphones
No products found.
Finding a great pair of cycling headphones without breaking the bank has never been easy. I'm glad lesser known brands like this are trying to serve to a buyer group that cannot afford expensive workout headphones.
The headphones juice out that much sought after thumpy, kicky bass we all love. The sound is lively and packs enough punch to keep your energy high during the workout. The package includes 3 different sizes of foam tips for custom fitting.
Truth be told, I am quite pleasantly surprised by the noise isolating capability of these lightweight, tiny headphones. If you are someone who likes to lose himself in music while working out indoors, these headphones would be an ideal choice.
Frequently Asked Questions about Peloton Headphones
01. What Are The Best Headphones for Cycling?
Ans. Here is a list of 10 headphones that qualify as the best headphones for cycling, running, home exercise and gym workout by all means:
AfterShokz Trekz Air Bone Conduction
Bose SoundSport Wireless Headphones: Best Headphones For Peloton (Wireless)
Sennheiser CX 6.00 BT Wireless In-Ear Headphones
Jaybird RUN True Wireless Headphones
MYSANDY Bone Conduction Headphones
Samsung Galaxy Buds
Bonein Bone Conduction BN-702 Bluetooth Headphones
Jabra 100-98600000-02 Elite Sport
Plantronics BackBeat Fit Bluetooth Headphones
AUKEY Wireless Headphones
02. Do You Need Headphones for Peloton Bike?
Ans. Music helps you focus better and stay motivated throughout the workout. Having a headphone on while exercising with a peloton bike is definitely a great idea. What's even better is that Bluetooth is built right into peloton bikes. So you won't need your phone, tablet or computer to connect your Bluetooth headphones.
03. Will AirPods Work With Peloton Bike?
Ans. All peloton bikes come equipped with Bluetooth system. You can easily pair your AirPods with your peloton bike and enjoy the beats while sweating it out.
04. Can the peloton instructors see you?
Ans. No, it's practically impossible. The video camera on peloton bikes is there for you to have a video conference with your friend while riding the bike. The instruction's screen only shows the list of milestones.
05. Do you lose weight with Peloton bike?
06. How much weight can I lose Cycling 1 hour a day?
Ans. A 180-pound person can lose about 650 calories a day with an hour of medium-intensity (at a speed of 16-19 mph) cycling. You lose 1 pound for every 3500 calories burnt.
07. How far of a bike ride is a good workout?
Ans. Most trainers recommend riding your bike for 40-60 miles every 2-3 days to improve fitness.
08. Is walking 8 miles a day too much?
Ans. You can burn anywhere between 600-1040 calories by walking 8 miles a day. It's definitely an amazing form of exercise but is very time-consuming too. Therefore, a daily 8-mile walk is not very practical for most people with a busy schedule.
Also Read: Surfing Headphones
Simple Steps To Bicycle Safety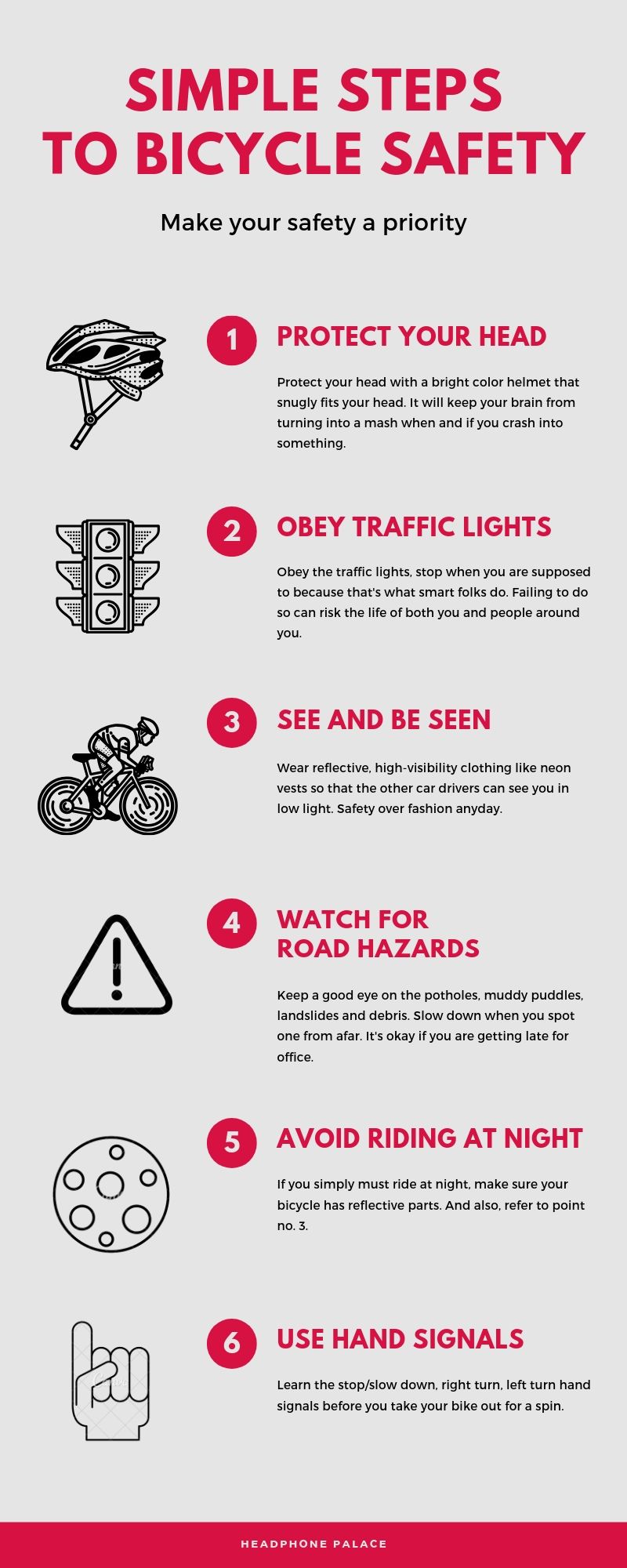 Summing up
Finding the best headphones for peloton bike, adventures sports like mountain biking or your daily jogging ritual is not an easy task. You need a pair that can withstand oceans of sweat, dirt, mud, and aggressive body movement. It took me years of trials and errors to finally figure out what to look for while buying specialized sports headphones.
There were tons of options to choose from, but only the 10 models featured in this article lived up to my ridiculously high standards. Hope this will help you find the right pair to suit your ever-evolving athletic needs too. Thanks for reading!
Last update on 2022-05-21 at 22:19 / Affiliate links / Images from Amazon Product Advertising API