The deafening noise of lawnmowers is the only reason I hated taking care of my lawn for so long. Thankfully, I found a great pair of noise-cancelling headphones that not only protects my eardrums from exploding but also makes me enjoy my job.
Since you landed on this page, I'm guessing you too are in a dire need of noise-cancelling headphones. But you are not really sure where to begin, do you?
Take it easy. I have put together a list of 10 best headphones for mowing to keep the decibels low.
But before that, here are a few tips on choosing the right product for your specific needs and budget:
7 Key Characteristics of High-quality Lawn Mowing Headphones
Hearing protection: this means that the 100 dB noise that the engine makes, is muffled when it reaches your ear. You can look for noise-isolation in headphones for this feature, if you aren't comfortable with using active noise-cancellation.
Clarity: you hear the music or the voice reciting the audiobook over and above the roar of the engine that you are working with. Ideally, you are not using the headphone at maximum volume when you do this.
Connectivity: if you are using the headset wirelessly, the connection should be super-smooth with no glitches, even though your phone is in the pocket of your jumpsuit. This happens when the headphone has the latest Bluetooth. Currently, this is v.5.0.
Why is this a key characteristic? Because if there are glitches, you might want to take out your phone every now and then, which may distract you and cause accidents.
Comfort: make sure that the headphones are your proper fit. This is mainly a question of what build you prefer: ear-muff type or earbud type. Then again, if you are going for earmuff type, let it be lightweight. If earbud type, then let's make sure that it stays in properly and doesn't give your ears unnecessary pressure.
Sturdily-built: A sturdy build quality that does not scratch or break is ideal for outdoor use. We don't have the time to be gentle with it, do we?
Good battery: The long hours of work calls for long-lasting battery power. Anything from 10 hours to 30 hours should work beautifully.
Budget-friendly: The best do come cheap, unlike what the old proverbs tell us.
If you're during a hurry then see this bestseller list
Things to Keep in Mind While Choosing Headphones or Bluetooth Hearing Protection for Lawn Mowing and Pressure Washing
The issue here is that lawnmowers and pressure washers have the potential to be dangerous if they unexpectedly malfunction, or if you are even a bit distracted while handling it. This is a serious situation, which can be life-threatening to the person using it or to anyone nearby, or both.
Potential dangers while using lawn mowers include:
You don't hear the telltale sounds of the lawnmower entering the area where there are pebbles. The blades hit them and propel them like a bullet.
If it hits a larger rock, the blade could break and fly off to hit someone. Remember, these blades are sharp enough to cut through bone.
You don't hear another person or your dog over the loud music and the roar of the lawnmower and you take a turn to find them suddenly there. You swerve to avoid hitting them and the mower overturns. It could crush you under its weight.
While street mowing, a vehicle that you didn't hear approaching, could hit you.
Dangers while using a high pressure washer:
Over 50 times stronger than your garden hose, a pressure washer could cut through heavy-duty boots. Imagine the condition of the poor guy's skin, or bones for that matter, if you are startled by someone (imagine anyone whom you wouldn't like skinned alive) while you are operating this unexpectedly scary machine.
You might not be able to control it with one hand if you have to operate your phone with the other.
The electric cable of the pressure washer could catch fire (just saying!) and you wouldn't hear it. No, sorry. But the risk of electric shock is truly there. You could catch it before it causes trouble if you are careful and listening.
Other Equipment e.g Power Cutter or Chainsaw:
Weed trimmers have the same safety issues. Look at any of the outdoor cutting equipment and you are likely going to see potential danger (think of chainsaws!). If you can't hear your surroundings completely, it can lead to problems.
How do you ensure that no accidents happen?
By making sure that:
You are well-rested and work-ready.
You know the terrain well enough and have scouted it to see whether it needs to be cordoned off.
You take protective measures against extreme weather and work-related precautions, like using boots and jumpsuits, etc.
You advertise that you are working, by telling family members, or even by putting up a board when you are mowing or pressure washing.
You divide your area of work into sections so that you get adequate rest in between.
You make sure that the headphones you are using properly fit you, do not entangle you in wires, and let you hear enough ambient noise to spot a problem if it arises.
Noise Canceling vs Bluetooth Hearing Protection: Which is the Better and Safer Option and Why?
Noise-canceling headphones cancel low-frequency ambient noise to provide you with only your music in your ear. Relatively low-frequency noise includes that of the loud lawnmower, while aircraft engines that boom are of higher frequency.
Get this. Sounds are transmitted as waves or vibrations. The loudness of a sound depends on the height of its wave and indicates the energy that produces it. But frequency is the number of such waves per second and indicates the pitch that our auditory system perceives.
Therefore the sound of an aircraft is perceived as high-pitched, but we do not exactly call it noisy(though we should!). The lawnmower or other equipment, on the other hand, growl and growl at a much lower pitch. Their sounds are perceived as much more noisy, because we are that much closer to them and the sound does not vary all that much in its frequency.
In practice, both of these can cause hearing damage.
Since low-mid frequencies are canceled out in a noise-canceling headphone, you might be able to enjoy your music in comparative silence than if you are using Bluetooth hearing protection headphones.
But is the first one safer than the second? We would have to say no, at least in terms of the hazards that are listed above. If you are totally unaware of the sounds around you, you have a higher risk of accidents.
Active vs Passive Noise Cancellation
Active Noise Cancellation: You know sounds are measured in decibels. A 100 dB approaching sound is picked up by the ANC headphone's external mic, and the headphone creates anti-noise approximately equal to 100 dB.
These two waves cancel each other out, providing a near-silent situation where you enjoy the music playing through your headphones in a moderate volume.
Passive Noise Cancellation/Bluetooth Hearing Protection: In this, there is no technology to measure the ambient noise or to create anti-noise. What these headphones do is block out the sound that is external to the headphone, by creating physical barriers to the approaching sound. This is also called noise isolation.
Majority of the ambient noise is muffled out, for the headset provides a secure fit to block the external noise from reaching your eardrum. The effect is similar to using ear muffs.
Noise Cancellation Pros and Cons:
Pros: Silent feeling that gives you the best listening experience.
Cons: Makes you oblivious to your surroundings.
Bluetooth Hearing Protection Pros and Cons:
Pros: You remain aware of your surroundings, and ready for surprises, thereby avoiding accidents.
Cons: While you won't feel the need to complain, the sound quality isn't top-notch.
Can Noise Canceling Headphones Double Up as Hearing Protection?
The answer, at first glance, is yes.
Active Noise Cancelling ensures that you don't have to blast your ear with maximum volume even in a loud environment. Thus you are using the headset at a low to medium volume, and your hearing is protected.
But the real question here is this- is it advisable to use noise-canceling headphones while using equipment such as the lawnmower, the pressure washer, or while working inside a noisy factory?
Let's hear it from OSHA, the authority on all things related to employee safety.
The Occupational Safety and Health Administration was set up so that there will be safeguards and regulations that employers must abide by, for employee safety. This is part of the US Department of Labor, in case you didn't know. They talk about everything, including—yes, you guessed it, noise-canceling headphones in employee use.
OSHA does not recommend it.
They say—quite rightly, we may add—that noise-canceling headphones increase the risk of employee accidents.
Imagine the havoc that can be wreaked by a crane operator who misses his spotter's cue because he was listening to music! Or a factory worker who does not hear the fire alarm! Or yourself, when you are operating your lawnmower or a pressure washer!
The dangers of completely shutting yourself from all sounds cannot be adequately emphasized. It is very important that you know them, so you are always careful about them.
But at the same time, there must be some sort of protection for your ears, because high or low frequency, continuous loud noise is detrimental to your hearing.
This is where Bluetooth hearing protection headphones come in.
As they block out the excess noise from reaching your eardrums, your hearing is protected. At the same time, you hear enough of your surroundings to notice danger, should anything go wrong.
This is why we recommend guarding your ears with Bluetooth hearing protection headphones, while operating equipment like the lawnmower. You could use an earmuff equally well, but if it is a headphone, you get to while away the chores with music.
A Friendly Guide to Choosing the Right Headphones for Lawn Mower and Other Loud Machinery
Here are a few parameters I set in my mind while selecting the products for this article:
Hearing Protection
Hearing protection should be on the top of your priority list while looking for a headphone for mowing. Most cheap headphones only offer passive noise cancellation which is not enough for this purpose. Do yourself a favor and spend a few extra bucks on a certified NRR headphone.
Over-ear vs Earbuds Dilemma
That's like the ultimate confusion for every buyer ever and I can see why. The only way to determine what's right for you is to weigh in the pros and cons of both.
Over-ears completely seal your ears which results in better noise isolation. But if you are a sweaty monster like me,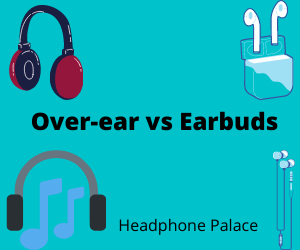 the thick padding of the ear cups can make your ears hot and ridiculously uncomfortable after some time. However, the insulation would be a huge perk in cold climate.
Earbuds are more comfortable to wear for hours due to their small and lightweight design. A premium Bluetooth earbud won't hinder your movement, unlike a wired headphone. But on the downside, since they can't fully cover your ears, it can't drown out the outside noise very well.
It all comes down to your priority.
Comfort
Having to wear a bulky headphone that simply doesn't fit right and virtually bakes the ears is one of the worst feelings ever. There are three foolproof methods to tell if the model you're planning will be comfortable: choose a headphone with multiple sizes of foam/silicone tips or an adjustable headband, check the padding material of the earmuffs, take the reviews seriously.
Reviews of Top 10 Noise-cancelling Headphones for Lawn Mowing
01. 3M WorkTunes Connect Hearing Protector with Bluetooth technology
3M WorkTunes Connect Hearing Protector with Bluetooth...
NRR of 24 dB (Noise Reduction Rating)*
BLUETOOTH WIRELESS TECHNOLOGY lets you seamlessly stream entertainment from your mobile phone and...
HIGH-FIDELITY SPEAKERS provide premium sound quality
INTEGRATED MICROPHONE lets you make and take phone calls without removing the hearing protection
If you have done your research on the best headphones for mowing already, chances are good that you have already come across this model.
3M WorkTunes is engineered keeping in mind the needs of construction workers, welders, handymen or simply anybody who doesn't want to go deaf from the loud noise of giant machines.
This headphone boasts of the Noise Reduction Rating (NRR) of 24 dB. With that amount of isolation, you would be only able to hear a faint grunt of the motor, nothing else.
It has built-in Bluetooth as well that lets you stream music and other content via any compatible device. Music adds an additional layer of protection against the outside disturbances. The sound quality is premium in the truest sense of the term.
From the volume, bass to clarity, everything is top-notch for a headphone not primarily designed for listening to music. The big and generously cushioned ear cups provide a proper seal. You can put in on for hours without minding its existence.
Pros
Reduces external noise up to 24 dB.
Secure fit.
Steady Bluetooth connectivity.
Amazingly balanced sound and pretty loud.
The battery lasts all day on low-medium volume setting.
Built-in mic allows hands-free calling.
Cons
Doesn't have any button for volume control.
02. ISOtunes PRO Bluetooth Earplug Headphones
ISOtunes PRO Bluetooth Earplug Headphones, 27 dB Noise...
BLOCK NOISE: heat-activated memory foam eartips expand like earplugs to significantly reduce outside...
WIRELESS MUSIC & CALLS: wirelessly play music and take calls 30+ feet from your device with...
USE ALL DAY: 10+ hour battery life and 240-hour standby time gets you through long days without...
CLEAR CALLS IN LOUD ENVIRONMENTS: Signature noise suppressing microphone with echo cancellation...
In case you are specifically searching for best the in ear headphones for mowing under $100 price bracket, I would like to draw your attention to this.
It's an Osha-compliant and ANSA-certified headphone specially designed to keep hearing damage at bay for those who deal with heavy-duty power equipment all day.
It comes with 4 pairs of foam tips for custom fit. The tips stay put and ensure a tight seal as long you can find the right size of tip for yourself. A tight seal is an absolute must to achieve the 27 dB noise reduction.
Yes, it does deliver what it claims. You can't actually hear anything except a vague sound while keeping these earphones on. It yields bass-heavy sound which is just about perfect to keep you focused at work.
Pros
Close-fitting, comes with 4 pairs of foam tips.
Strong and flexible wires.
The Bluetooth connection is steady.
The noise cancellation is top-notch for activities like mowing, welding, woodcutting and so on.
Cons
The audio is adequately loud but lacks clarity.
03. Soundcore Wireless Noise Canceling Headphones
Wireless Noise Canceling Headphones, Soundcore Space NC by...
【Hear Less, Hear More】Hybrid active noise cancellation technology reduces low-frequency sound by...
【Swipe Control】Conveniently control music with the on-ear touch pad.
【Long-Haul Listening】Premium Li-ion battery powers 20 hours of playtime in Bluetooth...
【Folding Design】Fold flat for safe storage and transport in the hard-shell travel case.
Soundcore is cool to look at, comfortable to wear and cancels isolates noise pretty damn well. It doesn't look like a typical headphone for lawn mowing with a very basic looking huge-ass earmuffs. It pumps out genuine Hi-res audio through its 40 mm dynamic drivers.
The best part is you can use it both with and without the wire, making it ideal for travelling as well. All the accessories come neatly organized in a premium hardshell case for added convenience.
There's a NC button on the ear cup. Just one press is all it takes to eliminate the drown out the high decibels of gas lawnmowers. It sounds just as good as any mid-range audiophile-grade headphones.
Pros
Audiophile-grade audio quality.
Doesn't make the ears hot and sweaty after prolonged use.
Two day-lasting battery, allows wired operation too.
Great for muting the noise of airplane motor, lawnmower, chainsaw, and other loud machines.
Cons
The touch controls have a big room for improvement. Not a dealbreaker as you can operate the headphone easily from your phone too.
04. Ruckus Earplug Earbuds
Ruckus Earplug Earbuds | OSHA Compliant Noise Reduction...
WORKPLACE ENHANCEMENT: The power is yours to decide what you listen to, not dictated by surrounding...
BUILT FOR WORK: Ruckus earplug earbuds are designed to work as hard as you do. The IP65 weatherproof...
PATENT PENDING TECHNOLOGY: Overmolded design completely seals out dust, debris, and moisture
NOISE REDUCING DESIGN: Engineered to seal out noise and carries the EPA issued NRR (Noise Reduction...
These bright yellow-colored OSHA-compliant headphones are the most affordable yet high-quality noise-canceling headphones you can buy today. The build quality of the headphones is absolutely unbelievable for the price. Its made from authentic bullet-proof material which renders the earplugs virtually indestructible in a normal environment. It meets the rigorous standard of OSHA and ANSI and guarantees noise reduction up to 25 decibels. It can literally shut down the world once you put the music on. The sound is bombastic in the truest sense of the term. You can keep them on for hours without feeling its presence much.
Pros
Extremely durable, built to survive heavy beating.
Sweat-resistant.
Noise blocking is impeccable.
Loud and vibrant audio.
Super affordable.
Cons
The earbuds are not ideal for small ear canals.
05. Bowers & Wilkins PX Active Noise Cancelling Wireless Headphones
Sale
Bowers & Wilkins PX Active Noise Cancelling Wireless...
Bowers & Wilkins PERFORMANCE - PX draws on decades of Bowers & Wilkins design experience to take you...
ADAPTIVE NOISE CANCELLATION - Perfect sound anywhere - on a plane, in the street or in the office....
FEEL MORE OF YOUR MUSIC - Built with the same drive units from our P9 Signature headphones, the PX...
PX RESPONDS TO YOU - When you need to pause, lift an ear cup. Put PX down and it goes to sleep. Pick...
If you are ready to pay the premium for incredible noise cancellation and hi-fi sound, Bowers & Wilkins deserves your attention. You can actually customize the noise isolation level in three ways using the 3 presets for optimal effect.
This feat is achieved by a technology named Adaptive noise canceling. PX turns on automatically when you put it on and turns off when you remove it. You can use it in wired mode too but the battery needs to have some juice left for the proximity sensors to work.
The makers have intentionally kept the drivers slightly angled to make the audio sound more natural. In my opinion, they sound epic with the ANC off.
Pros
Gorgeous sound quality, especially with the ANC off.
3 noise cancellation settings for three different types of environments.
Responds to your gestures due to the presence of high-quality proximity sensors.
20-22 hours of playback time.
Intuitive app-based controls.
Cons
People with large heads might feel uncomfortable wearing it for more than 2-3 hours.
06. Bose Noise Cancelling Wireless Bluetooth Headphones 700
Sale
Bose Noise Cancelling Headphones 700,Bluetooth, Over-Ear...
POWERFUL NOISE CANCELLING HEADPHONES: 11 levels of active noise cancelling let you enjoy music,...
ASTONISHING SOUND: Crisp, clear details. Deep, full bass. These wireless headphones produce...
UNRIVALED VOICE PICKUP: A revolutionary microphone system adapts to noisy and windy environments so...
KEEP YOUR HEAD UP AND HANDS FREE: With easy access to voice assistants like Alexa and Google...
It comes as no surprise that Bose has some of the best Bluetooth headphones for mowing in the current market in its name. Model 700 has Alexa built-in which would allow you to control all the features on your smartphone with simple voice prompts.
Bose integrates a state-of-the-art adaptive four-microphone system that can cancel out the hellaciously loud sound of power equipment like chainsaws, lawnmowers, TIG welding machines and so on.
The overall design is very sleek and modern and the headband can ensure a snug fit to any head size. Touch controls are pretty smooth and easy to figure out.
I found the sound very well-rounded. It has that quintessential Bose vibe to it. Considering the build quality, noise isolation, comfort, and audio quality, I think the price is quite reasonable.
Pros
Stylish and streamlined design, great fit irrespective of the head size.
Extremely lightweight. Can be worn for hours without any issue.
Very balanced sound.
Intuitive controls.
Lets you control the amount of ambient noise you want to mute.
Cons
To my ears, the bass lacks punch.
07. Sennheiser HD1 Wireless Headphones
Sennheiser HD1 Wireless Headphones with Active Noise...
Closed back, around-ear design featuring Bluetooth 4.0 technology and immediate pairing to smart...
NoiseGard hybrid active noise cancellation blocks ambient noise using 4 microphones for ultimate...
Sensitivity as per 121 TR 9-5:- 44 dB V/Pa , impedance: 18 Ω. 22 hour battery life with both...
Technology uses 2 built-in microphones working seamlessly to improve voice quality and remove...
Seasoned and budding audiophiles reading this you might want to pay attention to this review. Sennheiser HD1's sound quality is one of the finest I have come across while doing my research for this piece. It's beautifully balanced with tight bass peppered with crisp high and mids. The wide soundstage truly brings music to life. Coming to the ANC, it's not as good as top dogs like WorkTunes or Bose, but still sufficient to keep the roaring sound of engines to a minimum.
Pros
Easy-to-operate with a single multifunction button.
Soft and plush ear pads.
Vibrant sound with clear punchy bass.
Decent active noise cancellation.
Excellent voice call clarity.
Cons
Some users have experienced occasional Bluetooth connectivity issues while walking.
08. Plantronics Voyager 8200
Plantronics Voyager 8200 UC Stereo Bluetooth Headset with...
Stereo - White - mini-phone - wired/wireless - Bluetooth - 98.4 ft - over-the-head - binaural -...
Get rid of the tangles and love your music with these wireless Bluetooth Headset
Sit comfortably anywhere in your room as the 8200 UC offers wireless range of up to 98.4 ft
Immense yourself in quality sound with this stereo headset
Sleek, stylish, lightweight and comfortable as silk, these are the phrases I'd use to describe Voyager 8200. This one's a keeper. If you want to immerse yourself in the world of music while operating a blood-accordingly loud lawnmower or band saw, this one doesn't disappoint.
It allows you to choose the level of noise you want to let it through the ear cups. It doesn't completely block out the noise through. But on the bright side, you will be able to communicate with your co-workers without taking the headphones off.
If you have small to average-sized head, you can comfortably wear them for an extended period of time, even with glasses and a cap on.
Pros
Excellent passive noise cancellation with the music at max volume.
Comfortable for both small and average-sized heads.
Fits firmly.
Great bass.
Smart sensors on the mic alert you when you mistakenly start talking when the mic is muted.
Cons
The ear cups could be a bit larger.
09. Howard Leight by Honeywell
Sale
Howard Leight by Honeywell Impact Sport Sound Amplification...
Built-in directional microphones amplify range commands and other ambient sounds to a safe 82 dB,...
Actively listens and automatically shuts off amplification when ambient sound reaches 82 dB; Noise...
Features low profile earcups for firearm stock clearance; adjustable headband for secure fit;...
Includes AUX input and 3.5 mm connection cord for MP3 players and scanners. Integrated power/volume...
You don't have to necessarily cough up big chunks of money to own a pair of fantastic noise-cancelling headphones. Take Howard Leight for instance. It is advertised to dim the ambient noise up to 82 dB which isn't anywhere close to top-tier ANC but still pretty good for the price.
What's even better, it lets you remain aware of your surroundings without letting the loud sound of lawnmower blast your eardrums. I can also recommend it for wearing during shooting range as well. The overall build quality is robust and they fit fairly well with the shooting glasses on.
Pros
Great ambient sound amplification.
Built to last.
Can be worn while working outdoor as well as for shooting and loud sporting events.
Keeps the ears sweat-free.
Cons
Wind noise can affect the performance to some extent.
10. 3M H10A Peltor Optime
If you don't want to dig a hole in the pocket to get industrial level hearing protection, 3M could very well be everything that you are looking for. It carries the NRR of 30 dB which means it can dim the noise of leaf blowers, lawnmowers, weed-cutters, tractors to a great extent.
You will still be able to hear them but it won't bother you anymore. They are built to withstand heavy abuse. The might not feel super comfortable in hot weather, though. That's the only negative I could find.
Pros
Ideal for muting the grunting noise of loud machinery.
Can be used in firing range too.
Robust design, can survive a drop or two.
The easily adjustable headband fits both large and small heads.
Can be comfortably worn with eyeglasses on.
Cons
A bit too bulky for my taste.
Frequently Asked Questions (FAQs) about Noise Cancelling Headphones for Mowing:
Ans. Anker Soundcore Life Q20 is the best headphone for mowing because it protects your ears well at a very low cost. The over-ear design and its ANC effectively halve the mower's sound to a rumble in the background.
The 40mm drivers give you hi-res audio for more than 40 hours. You can completely use this because the soft memory foam earcups and the angle-adjusting headband make it super comfortable.
01. Which brand of Bluetooth headphones is best?
Ans. The best Bluetooth headphones list:
Bose QuietComfort 35 Bluetooth Headphones: Perfect for outdoors with top-notch noise cancellation, noise-rejecting mic, and 20-hour playback.
Bowers & Wilkins P7 Bluetooth Headphones: Foldable, ergonomic, and noise-isolating with 17+ hours of playback.
AKG Bluetooth Headphones: Trustworthy foldable model with 20 hours battery.
Optoma NuForce BE2 Bluetooth Headphones: AAC compatible, Kevlar re-inforced in-ear headphone with 10 hours playback.
Marshall Mid Bluetooth Headphones: Foldable, on-ear, with Bluetooth aptX and custom drivers for superior sound.
Audio-Technica ATH-SR5BTWH Bluetooth Headphones: On-ear, with 45mm drivers giving Hi-Res audio for 38 hours.
Sennheiser Momentum Bluetooth On-ear Headphones: Closed-back, on-ear and foldable, with ANC and 22 hours playback.
Shure SE846-CL-A Sound Isolating Earphones: True subwoofers and a transparent design, giving world-class audio.
Sony Premium Noise Cancelling Bluetooth Headphones: Industry-leading ANC and super-comfortable build for 20+ hours playback.
B&O PLAY by Bang & Olufsen Over-ear Bluetooth Headphones: Extremely comfortable for a total of 20 hours playback.
a. what are the best headphones for mowing?
Ans. Here's my list of the best headphones for mowing based on factors i.e noise cancellation ability, design, comfort, sound quality, durability and ease of use:
3M WorkTunes Connect Hearing Protector
ISOtunes PRO Bluetooth Earplug Headphones
Soundcore Wireless Noise Canceling Headphones
Ruckus Earplug Earbuds
Bowers & Wilkins PX Active Noise Cancelling Wireless Headphones
Bose Noise Cancelling Wireless Bluetooth Headphones 700
Sennheiser HD1 Wireless Headphones
Plantronics Voyager 8200
Howard Leight by Honeywell
3M H10A Peltor Optime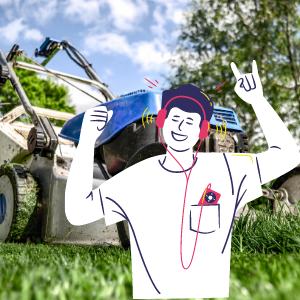 b. What is the best noise-canceling Bluetooth?
Bose QuietComfort Noise Cancelling Earbuds: Touch-operated, IPX4 rated buds with on/off/pause ANC and 18 hours of total playback.
Sennheiser's Momentum TWS Noise Canceling Earbuds: Touch controlled buds with high-quality stereo for 28 hours in total.
Mpow X3 Noise Canceling Earbuds: Submersive buds with 10mm drivers and 4 mic noise cancelation with IPX8 waterproofing.
Apple AirPods Pro: Siri-enabled, with in-ear Adaptive EQ for different ear-shapes, IPX4 rating, and on/off ANC.
Jabra Elite 75t Noise Canceling Earbuds: With 4-mic calling tech and ANC, it gives a day's worth of no-dropout audio.
Earfun Air Pro Noise Canceling Earbuds: Hybrid ANC with 32-hour playtime through dual 10mm drivers for Hi-Res audio.
Sony WF-1000XM3 Noise-canceling Earbuds: Alexa-enabled 24-bit high-resolution audio for 24 hours.
Sony WF-SP800N Noise-canceling Earbuds: IP55 dust and splash-proofed with ANC and Alexa-enabled for 18 hours total.
Technics Noise-canceling Earbuds: High-quality 10mm drivers as well as analog and digital noise-canceling in Alexa-enabled buds.
1More TWS ANC Earbuds: Touch controlled with 3 noise cancelation modes for high-quality audio.
Master & Dynamic TWS Noise-canceling Earbuds: 10 hours of well-balanced audio and defined bass with ANC.
02. Why should you wear ear protection when mowing and trimming the lawn?
Ans. Lawnmowers can cause permanent hearing damage if you are exposed to it continuously. Ear protection while using mowers will reduce the sound to a safe level under 85 dB.
a. Should you wear ear protection while mowing?
Ans. The blaring sound of lawn mowers, especially gas-fuelled mowers, is much above the safe decibel level of 85 dB. Not wearing an ear protection while operating such loud machinery could cause serious hearing damage.
03. Should you invest in Bluetooth headphones?
Ans. Tangled cables are probably the last thing you'd want to deal with while mowing the lawn or handling any heavy-duty equipment for that mater. A wireless Bluetooth headphone lets you stream music, take calls and do a lot more hands-free. The convenience offered by such headphones makes them a real catch.
04. Should you worry about durability of the headphones?
Ans. If you are buying a headphone specifically for outdoor use, durability should be one of your top priorities while choosing a model.
05. How much should you spend on the pieces?
Ans. You can spend as little as $20 or as much as $600 or even higher, depending on your budget and needs.
06. Is it safe to wear headphones while mowing?
Ans. It is lots safer to wear headphones than go without them because they muffle the mower's high-frequency sound, and protect your hearing. Important to ensure that they also let in ambient sound so you know if you hit something.
07. Can you listen to music while mowing the lawn?
Ans. Of course, you can. The right kind of headphones blocks most of the lawnmower's sound so that you listen to music at a normal volume while also being aware of what happens in your environment.
08. How can I listen to music while mowing?
Ans. Though the lawnmower is noisy, you can still listen to music while mowing. To be safe, follow these steps diligently:
Buy a headphone with active as well as passive noise cancelation.
Make sure this headphone fits over-ear and not in-ear.
You may use an ear-plug to block out sound under the headphone.
Switch on the ANC and put the headphone on low volume before starting the mower.
Start music only after using the mower for a few minutes getting your legs under you.
Listen to music at a normal volume, with ANC on.
When you are taking a break, listen to music.
09. Are AirPods good for mowing?
Ans. AirPods' ANC will be adequate for normal sounds, but for a lawnmower, an over-ear headphone with ANC as well as passive noise cancelation is preferred.
10. What are the best radio earmuffs?
Ans. Our top 10 picks for the best radio earmuffs based on performance, comfort, and value are:
| | | | |
| --- | --- | --- | --- |
| Best Radio Earmuffs | NRR | Weight | Top Features |
| 3M Worktunes Wireless Hearing Protection | 24 dB | 1.3 lbs | Long-lasting battery, ultra-comfortable ear pads, easy to use with gloves on. |
| ION Audio Tough Sounds | 25 dB | 0.81 lbs | Ideal for power tools noise reduction, can survive extreme weather and environmental conditions. |
| ISOtunes PRO | 27 dB | 0.50 lbs | Light as a feather, deep bass, and fantastic audio clarity. |
| PROTEAR Bluetooth | 24 dB | 1.03 lbs | Sturdily built, good for muffling the sound of power equipment such as a lawn mower or chain saw. |
| Honeywell Sync | 32 dB | 1.05 lbs | Excellent noise-canceling microphone for uninterrupted calls in a loud environment along with superior sound attenuation. |
| Howard Leight | 25 dB | 0.9 lbs | A great pair of affordable, decent sounding headphones for drowning out external noise. |
| Walkers XCEL 500BT | 25 dB | 1.2 lbs | A great pair of shooting headsets with easy-to-use controls. Epic voice clarity mode. |
| Baby Banz | 31 dB | 0.29 lbs | Specially designed for babies. The ear cups stay put and doesn't cause discomfort during prolonged use. |
| 3M PELTOR WS ProTac XP | 31 dB | 0.87 lbs | Clear voice calls in high noise environment and comfortable enough for long-term use. |
| 3M Peltor WS Tactical Sport | 20 dB | 1.9 lbs | Lightweight, fits well, and boasts of a wonderfully balanced audio that's full of bassy bass and kicky kicks. |
Wrap up
So that was my take on the best headphones for mowing. I'm sure you have already made up your mind by now. If you haven't, you are free to keep digging. I have been a handyman for some 5 years now and I know the importance of a quality hearing protection headphones just as much as you do. I would like you to take your time to weigh the pros and cons carefully before jumping to a conclusion. Or maybe just trust your guts. That's all for today.
Last update on 2023-06-10 at 13:50 / Affiliate links / Images from Amazon Product Advertising API