Some people are tired to clear the selection concept of cowin e7, e7 pro and e8. is't it? It is the right place to remove all cloudy concept. To thinking about this situation Headphone Palace makes in depth comparison of cowin e7, e7 pro or e8.
Cowin E7 vs Cowin E7 Pro vs Cowin E8- Detailed Comparison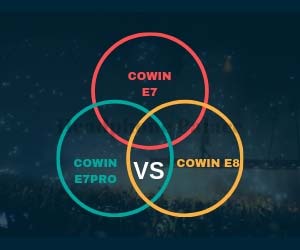 Even though all the three headphones featured in this list are a class of their own, there are specific features that make one better over the other for certain users. In this section, I've broken down their respective salient features in detail to help you make a decision you won't regret.
Audio Quality
As someone once famously said, life is too short to listen to music through bad headphones. The quality of sound can make or break a headphone. It is not easy to choose a Bluetooth ANC headphone that sounds great.
But fortunately, E7 is a clear exception. It produces deep sub-bass and dynamic mid-bass, adding a lot of clarity and punchiness to the audio.
E7 Pro's sound output is mainly characterized by punchy bass, great mid-tones, and highs. It is essentially a mid-rangy headphone in terms of sound and is best for listening to dialogue-driven content.
E8 boasts of exceptional mid-tones and great vocal clarity. The audio output remains the same in both the wired and wireless mode (with ANC turned on or off).
Active Noise Cancellation
A good ANC headphone lets you focus on your work and get immersed in your music among all the hullabaloo of crowded roads, office, airport and road traffic. But a great ANC headphone lets you take a nap in moderately noisy environments.
Cowin E7, E7 Pro and E8- all three of them have an excellent ability to dampen noise in noisy places like busy streets and airport terminals.
But while E7 Pro and E8 merely dampen the noise of people chattering, engine sound, honking cars when the music in on, E7 manages to create a layer of noise protection around your ears even when the music is off.
Cowin E7 original Bluetooth ANC headphones are simply the best out of three if all you need is peace of mind while traveling in public transports.
Battery Life
Both E7 and E7 Pro offers 30+ hours of battery life. But E7 Pro uses a 25% larger battery than that of E7. Although E7 Pro takes 4-5 hours to charge which is a lot, it also reduces battery consumption in ANC mode by liming maximum volume output.
E7 has one unique feature which people like me who remember to charge their gears at the 11th hour will adore. I'm talking about the Quick Charge technology. With just 10 minutes of charging, E7 allows a playback time of 1 hour.
Compared to these two, the 545 mAh battery housed in E8 is subpar. The runtime of 20+ hours is not bad per se. At moderate settings, it will last you for a full day and it also doesn't take more than 2 hours to charge which is a big advantage.
Look and Feel
In general, closed-back headphones aren't considered to be as comfortable as in-ear phones. They are more popular for noise cancellation as they completely seal your ears. The comfort of closed-back headphones like this mainly depends on the quality and quantity of padding on the earcups and underneath the headband. The adjustability of the headband also plays an important role in this.
Taking all these factors into account, I'd say Cowin E8 is one of the most comfortable ANC wireless headphones in the market right now. The large, generously cushioned earcups wrap your ears like a warm blanket.
E7 Pro is less comfortable than E8, due to the size of the headband. I won't recommend it for individuals with large heads. However, the padding is quite breathable due to its quick heat dissipation property.
E7 doesn't score high in the looks department. The excessive use of plastic part makes it look kind of cheap. However, the headband is highly adjustable and can easily fit heads larger than average in size.
And, to help you finalize the super tough decision between:
Cowin E7 is one of the brand's most famed ANC over-ear headphones while E7 Pro is an updated version of it. When we say "updated", the expectation inevitably soars high. So in the following section, we'll try to find out whether E7 really lives up to its "Pro" status or is the original E7 still the best way to go.
Table could not be displayed.
Cowin E7 vs E7 Pro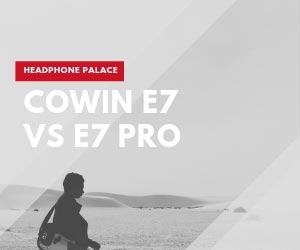 The upgraded E7 Pro boasts of some significant improvements of E7.
Things I didn't like in particular about E7 are the quality of padding around the headband and earcups, quality of phone calls on the microphone and the cheap plastic bits. The E7 Pro has a sturdier and more professional look.
The microphone is significantly more powerful. The earcups snugly embrace your ears and don't seem to fall off when you walk fast. As far as comfort is concerned, E7 PRO is far superior compared to E7.
The ANC of E7 PRO, even when the music isn't on is fairly powerful. It also achieves to prolong the battery life in the ANC model by limiting the volume output. So while both E7 and E7 Pro provides the total battery life of 30-hours, E7 Pro's battery is more long-lasting in the ANC mode and thus, is more value for money.
Coming to the sound, E7 PRO's bass is more boosted than that of E7. If you are not a basshead, you will end up liking E7 more.
However, just like E7, you can't take E7 PRO out for jogging with you or use during an intense workout. Both headphones are quite competitive in their respective terms. However, E7 PRO is more value for money due to the comfort, rich bass, and powerful microphone.
E8 is essentially the next-gen E7. Aspects that are not-so-good about E7 have been significantly improved in E8. But how major and effective are those improvements? Is E8 the perfect alternative to E7? We shall find out in the following section:
Table could not be displayed.
Cowin E7 vs E8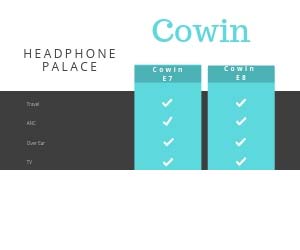 Cowin E7 or E8- a topic that can lead to a heated argument among audiophiles anytime. Well, to get an accurate answer, ask yourself, what features do you require the most in a headphone?
If it is plush design, great comfort, excellent ANC and quick charging-E8 should be your go-to option. However, it includes a voraciously hungry battery. When the ANC is on and the music is getting played at max volume, the battery will drain too fast.
E7, on the other hand, is a complete headphone. It sounds good, the ANC is above-average, comfort is average but the battery life is excellent. If good sound with great battery are your priorities, E7 wins by a great margin in the E8 vs E7 competition.
Both E7 Pro and E8 are worthy descendants of the original Cowin E7. Both combines the major strengths of E7 along with a slew of features completely unique to Pro and E8. While it's not going to be a cakewalk to find out which updated version has the best "updates" over E7, a comprehensive side-by-side comparison should do the trick. So here we go:
Table could not be displayed.
Cowin E7 Pro vs E8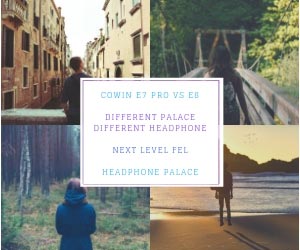 E7 Pro is an above average ANC headphone with great audio output. The slightly overemphasized lower frequency range and sharp mid-tones adds a great deal of depth and dimension to the vocals and lead instruments, especially instruments like bass guitar.
The battery life is excellent and it has NFC pairing too for instant connectivity. The quality of calls and audio recorded on the microphone and crisp and clear.
E8 is better at noise cancellation. It can dampen the noise level by 3 dB which is enough to keep you stay focused and relaxed in crowded places.
Due to the large size and thick padding, E8 is more comfortable to wear for extended hours. So no prizes for guessing, in the Cowin E8 vs E7 Pro comparison, I am slightly more inclined towards E8 for its gorgeous design and extraordinary noise dampening ability.
Table could not be displayed.
Short Comparison Among Cowin E7,E7 Pro And E8
Cowin E7 is an all-rounder headphone. Although the appearance of the headphone is slightly marred by the used of plastic bits, it is quite sturdy, nonetheless. The sound is deep, warm with clear vocals. The mid-tones is where the headphones truly shine. The battery life of 30 hours is quite impressive too.
Has NFC pairing for easy and quick connectivity.
Excellent mid tones and volume range.
30-hours of battery life.
Effectively filters out ambient noise.
The upgraded E7 Pro is blessed with a great and well-balanced sound quality, something even the most luxurious Bluetooth ANC headphones lack. However, bass music lovers will find the bass tones of E7 deeper and punchier. In terms of design and comfort, though, E7 Pro is a clear winner over E7, due to its thicker and more breathable padding.
23+ hours of battery even when the battery-hungry ANC feature is on.
Extremely low sound leakage.
Noise filtering ability is great is moderately noisy environments.
If you are looking for a mid-range headphone that looks super expensive and is extremely durable, E8 could be your go-to headphone. However, unlike E7 and E7 Pro, it doesn't have NFC pairing for quick connectivity. The 20+ hours of battery runtime is also not on par with that of E7 and E7 Pro. However, E8 is more comfortable to wear for a long time. Clear mid-tones and well-defined vocals are its major strengths along with decent noise filtering ability.
Large and amply padded earcups.
Tactile control buttons.
Well-pronounced mid-tones.
Premium aesthetics.
Wrap up
Choosing the right headphone is insanely difficult, especially when you have to pick among 3 extremely competitive headphones of the same brand- Cowin in this case. I'm quite sure the side by side comparison of E7 vs E7 Pro vs and E8 will definitely help you make up your mind. Don't worry If your judgement remains clouded even after reading the in-depth Comparison, then you can read the complete reviews of cowin E7, E7 pro and E8. That's all for today. Good luck!
Last update on 2023-12-10 at 08:20 / Affiliate links / Images from Amazon Product Advertising API